The Empress Arcana
The Empress Social Link is tied to none other than Mitsuru, if you couldn't already tell by her personality. In order to open this Social Link up you'll need to first max out your Academics and score at the top of your class on an exam. After you do this head down to the first floor of Gekkoukan High and speak with Mitsuru to receive the reward you were promised for scoring at the top of your class. This is just one of the prerequisites.
It will also have to be later than November 21st in the game for you to start/advance this Social Link. You'll find Mitsuru on the first floor of Gekkoukan High next to the Teacher's Lounge on Tuesday, Thursday and Saturday.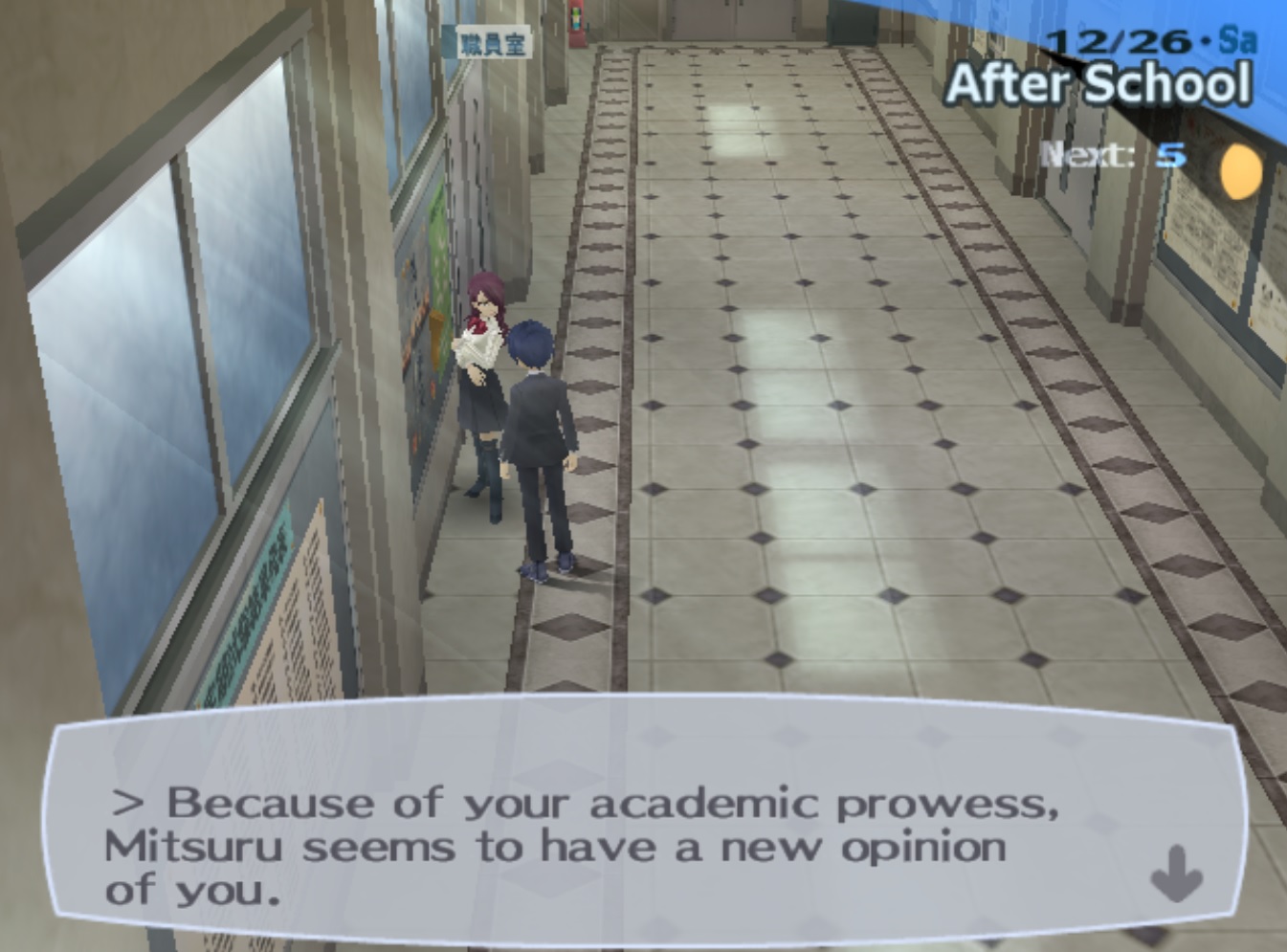 While raising a Social Link you'll be given story cutscenes where you'll have to answer questions. The answers to each of these questions is different depending on the person and the situation. What you usually need to try and do is pick an answer that reflects their personality. Here's a cheat sheet for each Social Link rank of the Empress Arcana and what to say.
Rank 1: Automatically earned
Rank 2: Anything
Rank 3: (Ask her to treat you) - Does that make you happy? - Anything - (Agree to forget about it)
Rank 4: Did something happen? - It's the result of love - Anything
Rank 5: I'm glad you enjoyed it - A motorcycle? - Let's go for a ride
Rank 6: Can I get a book for you? - That's news to me - You have to reconsider
Rank 7: Let's do it
Rank 8: Anything - Anything - (Say something to the guy) - Anything
Rank 9: That makes me happy
Rank 10: Automatically earned
When you complete this Social Link you'll be able to fuse the Persona Alilat through regular or triangular fusion. This Persona has an extremely powerful Heart Item called Divine Pillar which is almost a requirement if you plan to take on Request 55 in the future. The Persona Metatron will also be required for Request #74 in Persona 3 FES.
Fool
Magician
Priestess
Empress
Emperor
Hierophant
Lovers
Chariot
Justice
Hermit
Fortune
Strength
Hanged Man
Death
Temperance
Devil
Tower
Star
Moon
Sun
Judgment
Aeon
Return to Persona 3/FES Walkthrough Index
View Other Social Links and Personas