The Devil Arcana
The Devil Social Link is one of the few Social Links in the game that requires you to complete part of another Social Link first. It opens up later in the game after Junpei gives you "Innocent Sin Online" which unlocks the Hermit Social Link. Raise this link to 4 and the friend you made online, Maya will tell you about an old man who insulted her at the mall while she was drunk.
After Maya tells you this story head to the Paulownia Mall in the evening and look for a man in a suit who stands to the right of the fountain by the benches. As seen in the picture below. When you speak to him he'll ask you to give him 10,000 yen for an investment; give him the money. Now you'll need to come back a few more times and he'll tell you each time that your investment hit a snag and he needs more money.
Eventually he'll tell you that he has been scamming you this whole time and you're not getting your money back. However, he'll be your friend and teach you how to trick others. This is when you'll open up the Social Link. This Social Link raises faster than some of the other ones, usually every time you come to speak to him in the evening you'll get an increase in level.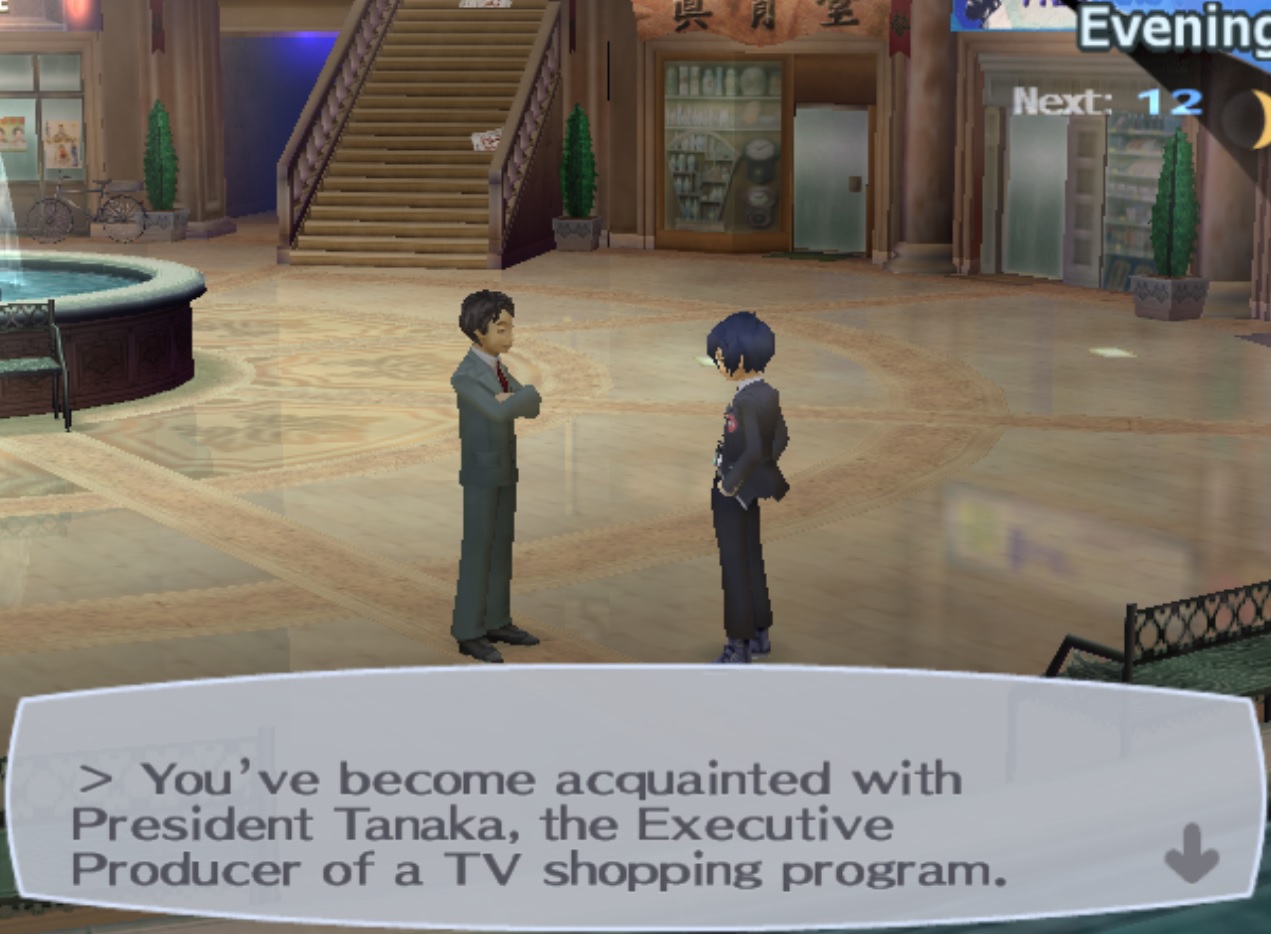 While raising a Social Link you'll be given story cutscenes where you'll have to answer questions. The answers to each of these questions is different depending on the person and the situation. What you usually need to try and do is pick an answer that reflects their personality. Here's a cheat sheet for each Social Link rank of the Devil Arcana and what to say.
Rank 1 - 10: Automatic
It doesn't matter what you say to President Tanaka so be sure to pick the funniest responses possible. His dialogue is one of the best out of all the Social Links!
Upon completion of this Social Link you'll be able to fuse the Persona Beelzebub through Hexagon Fusion. You'll need Baal Zebul, Abaddon, Lilith, Pazuzu, Succubus and Incubus.
Fool
Magician
Priestess
Empress
Emperor
Hierophant
Lovers
Chariot
Justice
Hermit
Fortune
Strength
Hanged Man
Death
Temperance
Devil
Tower
Star
Moon
Sun
Judgment
Aeon
Return to Persona 3/FES Walkthrough Index
View Other Social Links and Personas