The Star Arcana
This Social Link can be initiated after the Summer Competition of Kendo, Track, or Swimming, whichever sport you chose to participate in early in the game. This Social Link belongs to a 'Star' (get it) athlete who belongs to the opposing team, Mamoru Hayase. After the matches he'll come over and introduce himself to you and strike up a conversation, if you're nice to him he'll tell you to find him hanging out at the Iwatodai Station strip mall. The location of where you can find him is in the picture below.
He hangs out on a bench nearby the Bookworms store (Hierophant Arcana). You'll need level 4 Courage in order to start this Social Link. Also, Mamoru is available Monday - Sunday. Starting at rank 9 of the Social Link he'll only be available on school days.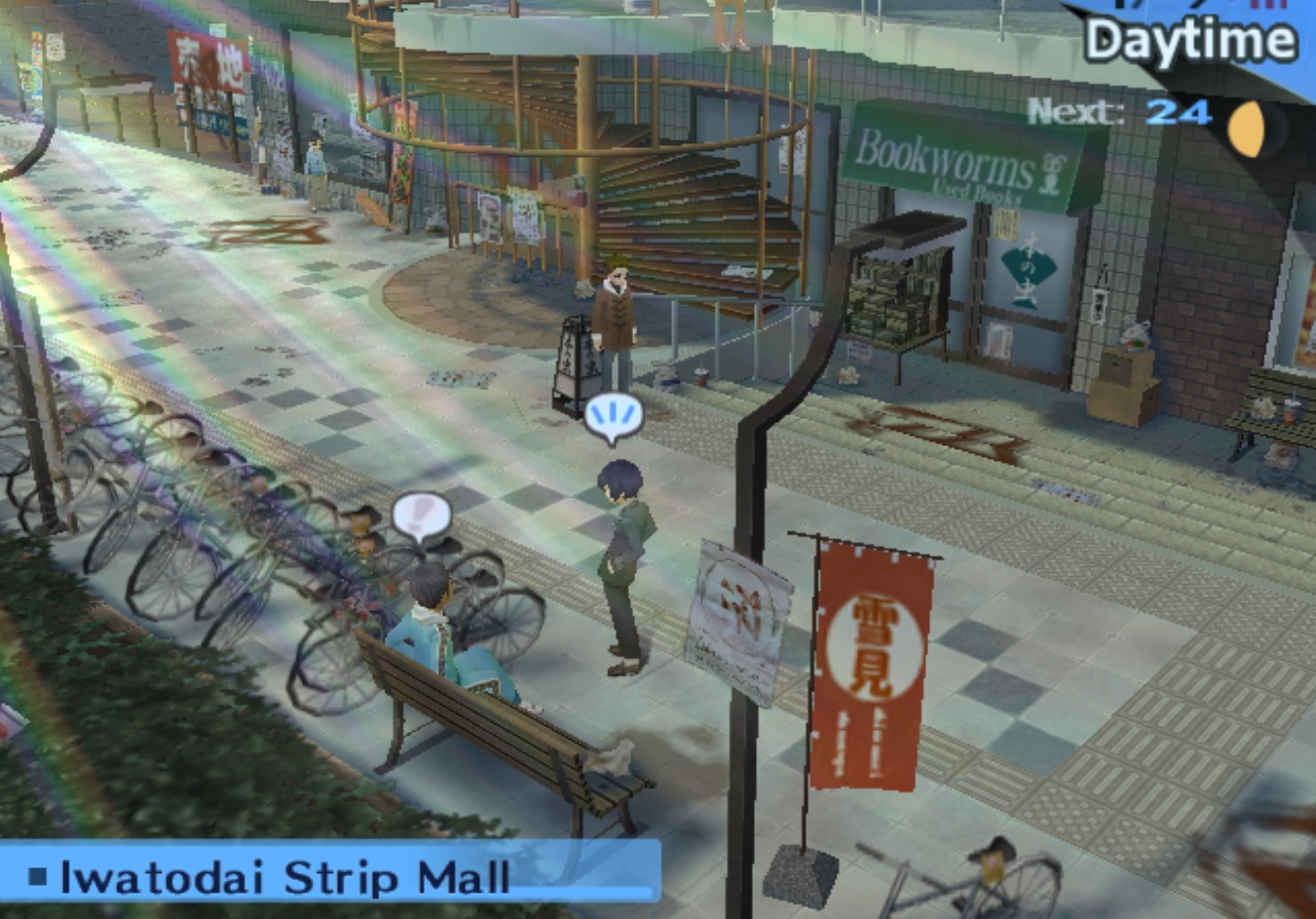 While raising a Social Link you'll be given story cutscenes where you'll have to answer questions. The answers to each of these questions is different depending on the person and the situation. What you usually need to try and do is pick an answer that reflects their personality. Here's a cheat sheet for each Social Link rank of the Star Arcana and what to say.
Rank 1: Automatically earned
Rank 2: Yea, no problem
Rank 3: Anything - Anything
Rank 4: Anything - Sounds like a good plan - Yea I bet she would
Rank 5: Are you ok? - We should come here again
Rank 6: Anything - Anything - Anything
Rank 7: I don't mind - Anything - Anything - Don't give up!
Rank 8: You should get some more - Anything
Rank 9: And you won? - Do a victory celebration - Anything - Thank him for his generosity
Rank 10: Automatically earned
When you complete this Social Link you'll be able to fuse Lucifer (Persona 3) through normal or triangular fusion. In Persona 3 FES you'll also be able to fuse Helel through normal or triangular fusion. Both of these Personas will be able to learn the unique spell Morning Star. You'll need Helel and Satan for Request #78 in Persona 3 FES.
Fool
Magician
Priestess
Empress
Emperor
Hierophant
Lovers
Chariot
Justice
Hermit
Fortune
Strength
Hanged Man
Death
Temperance
Devil
Tower
Star
Moon
Sun
Judgment
Aeon
Return to Persona 3/FES Walkthrough Index
View Other Social Links and Personas