The Aeon Arcana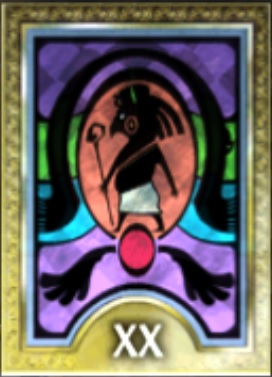 The Aeon Social Link is tied to Aigis and isn't available until much later in the game. Aigis will have to join your party and gain her 'emotions'. To tell you more would be spoiling the story so let's just say that you can start this Social Link after the seventh of January. You'll have to focus primarily on this Social Link in order to complete it before the end of the game too. So don't miss a date with Aigis!
While raising a Social Link you'll be given story cutscenes where you'll have to answer questions. The answers to each of these questions is different depending on the person and the situation. What you usually need to try and do is pick an answer that reflects their personality. Here's a cheat sheet for each Social Link rank of the Aeon Arcana and what to say.
Rank 1: Automatically earned
Rank 2: I like it
Rank 3: Anything - That's not true
Rank 4: Anything - All right
Rank 5: You may be right
Rank 6: No, you didn't
Rank 7: Anything - Anything - Anything
Rank 8: I'm doing it now - Anything
Rank 9: You're right
Rank 10: Automatically earned
Once you complete this Social Link you'll be able to fuse the Persona Metatron through Cross Fusion. You will need to combine Michael, Gabriel, Uriel and Raphael the four Archangels.
Fool
Magician
Priestess
Empress
Emperor
Hierophant
Lovers
Chariot
Justice
Hermit
Fortune
Strength
Hanged Man
Death
Temperance
Devil
Tower
Star
Moon
Sun
Judgment
Aeon
Return to Persona 3/FES Walkthrough Index
View Other Social Links and Personas