The Beginning of the End (Disc 3) - FF8 Guide
At the top of every page of my Final Fantasy 8 Walkthrough I will have a list of the most important GF Abilities for you to learn as well as my personal preference for who to junction GFs to for this part of the story. The game's auto order for GFs learning abilities is extremely terrible so it's strongly recommended you interfere and do the abilities in the order I provide here.
Throughout the game you can also refine Cards into Items and then those Items into magic. I've provided a list of the refinements that you can do for the cards that you will most likely have in your possession at this time during the story below as well. This same information will be provided at the top of every page during the full walkthrough, keep checking it as it'll change as the story progresses.
GF Abilities to Learn:
Cerberus: Spd-J, Spr-J, Mag-J, ST-Def-J, ST-Atk-J, Spd+20%, Spd+40%, Auto-Haste, ST-Def-Jx2, ST-Def-Jx4
Alexander: Med Data, Med LV Up, High Mag-RF, Elem-Defx4, Elem-Atk-J, Boost, Revive, Spr+20%
Doomtrain: Forbid Med-RF, ST-Def-Jx4, Elem-Defx4, Auto-Shell, Boost
Cactuar: Luck-J, Eva-J, Defend, Luck+50%, Auto-Potion, Kamikaze, Eva+30%
Bahamut: Boost, Mug, Auto-Protect, Rare Item
Eden: GFAbl Med-RF, Boost, Luck+50%, Expendx3-1, Mad Rush, Darkside, SumMag+% Abilities
GF Junctioning:
Squall: Siren, Brothers, Carbuncle, Leviathan, Tonberry, Eden
Zell: Shiva, Diablos, Pandemona, Doomtrain, Bahamut
Quistis: Ifrit, Quezacotl, Cerberus, Alexander, Cactuar
(Or whomever you choose as your party; junction them as you see above)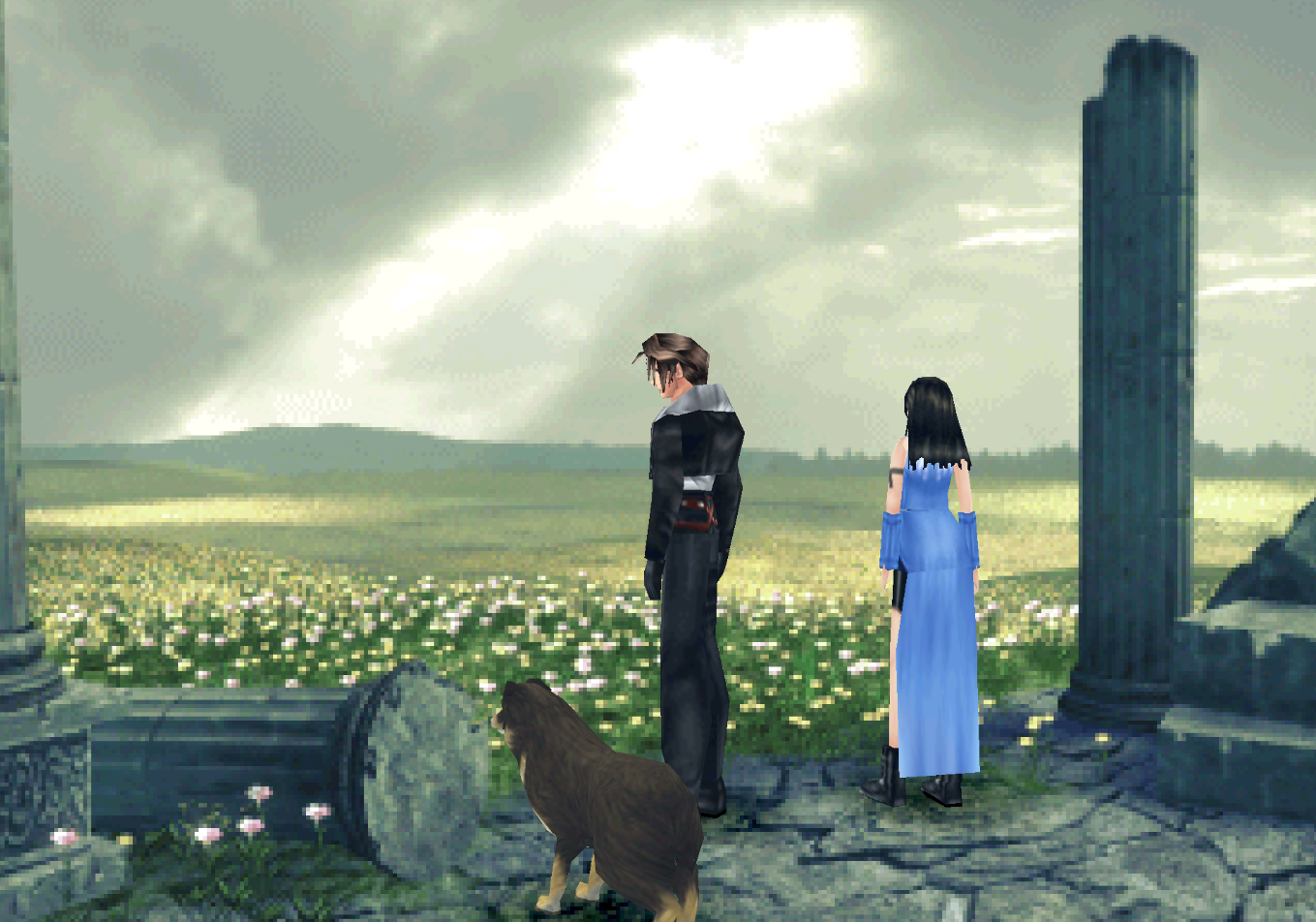 This chapter is named The Beginning of the End because it's the last part of the game before the point of no return. There's only a little bit more story left that we're able to do prior to all towns and most dungeons becoming permanently inaccessible. Don't worry, I will let you know when we get close to that part.
At the start of this chapter the very first thing you're going to want to do is put Rinoa in your group then go to Edea's House and get Angelo back. When you first arrive you'll see Angelo run off to the left side of the screen, head over here for a scene with Angelo, Squall and Rinoa. That's all we need to do here, with Angelo back in our control we can do the Angelo Search Item Farm whenever we want.
On this page you'll find basically all of the available side quests and content that we're able to do before completing the game. This includes previous side quests that you may have missed or didn't feel like doing at the time.
Note: You can return to Shumi Village for some scenes if you completed it earlier in the game. Also if you did the Master Fisherman's Side Quest he'll be there too... As is the Ultima Draw Point!
I highly recommend you read this page in its entirety because you can skip around it almost as much as you'd like and it contains useful information further down that is beneficial to you right now. Or if you'd like to take a break from all this questing and hunt down some Rare Cards in Triple Triad, there's more info about that below too. Before we get started with everything else, let's first take a look at the newly available GFs to get.
Bahamut GF (Deep Sea Research Center)
Eden GF (Deep Sea Research Center)
You're definitely going to want to get Cactuar and Bahamut now but some people may want to save Eden until later. If you get Eden now you won't be able to manipulate the fixed encounters inside of the Deep Sea Research Center which will make getting some items much more difficult.
Once you've obtained Cactuar and Bahamut you'll want to knock out all available side quests, which are listed below.
In addition to the above mentioned side quests, these are the ones which were previously available that you may have missed.
Centra Ruins (King Tonberry) GF Side Quest
Centra Ruins (Odin) GF Side Quest (Recommended you wait until Disc 4)
Queen of Cards Side Quest (if she is still in Dollet move her to Balamb)
Squall's Ultimate Weapon (Lionheart)
Zell's Ultimate Weapon (Ehrgeiz)
Quistis's Ultimate Weapon (Save the Queen)
Selphie's Ultimate Weapon (Strange Vision)
Irvine's Ultimate Weapon (Exeter)
Rinoa's Ultimate Weapon (Shooting Star)
Whenever you'd like to take a break from the side quests to level up, I personally would recommend you grind the fixed encounters against Tri-face enemies in the Deep Sea Research Center. Here you can get most of the Curse Spike items you need while leveling up your characters (Cactuar gives tons of Stat Bonuses on leveling up - use him).
Another fantastic location for you to grind would be the Elynoyle Fixed Encounter in Esthar. You can get a steady supply of Energy Crystals from this Elynoyle which are difficult to come by anywhere else in the game. They're used for multiple different Refinements as well as a few different Ultimate Weapons.
Equip Abilities to two of your characters that grant bonuses when leveling up the kill the third one during battle - you don't want him to get EXP since there aren't enough Bonus Abilities to go around. Here's how I would recommend you prioritize the abilities:
Squall: Str Bonus, HP Bonus, Mag Bonus, Vit Bonus, Spr Bonus
Rinoa: Str Bonus, Vit Bonus, HP Bonus, Spr Bonus, Mag Bonus
Irvine: Str Bonus, Vit Bonus, Spr Bonus, Mag Bonus
Zell: HP Bonus, Str Bonus, Mag Bonus, Vit Bonus, Spr Bonus
Quistis: Str Bonus, HP Bonus, Vit Bonus, Spr Bonus, Mag Bonus
Selphie: Str Bonus, HP Bonus, Vit Bonus, Spr Bonus, Mag Bonus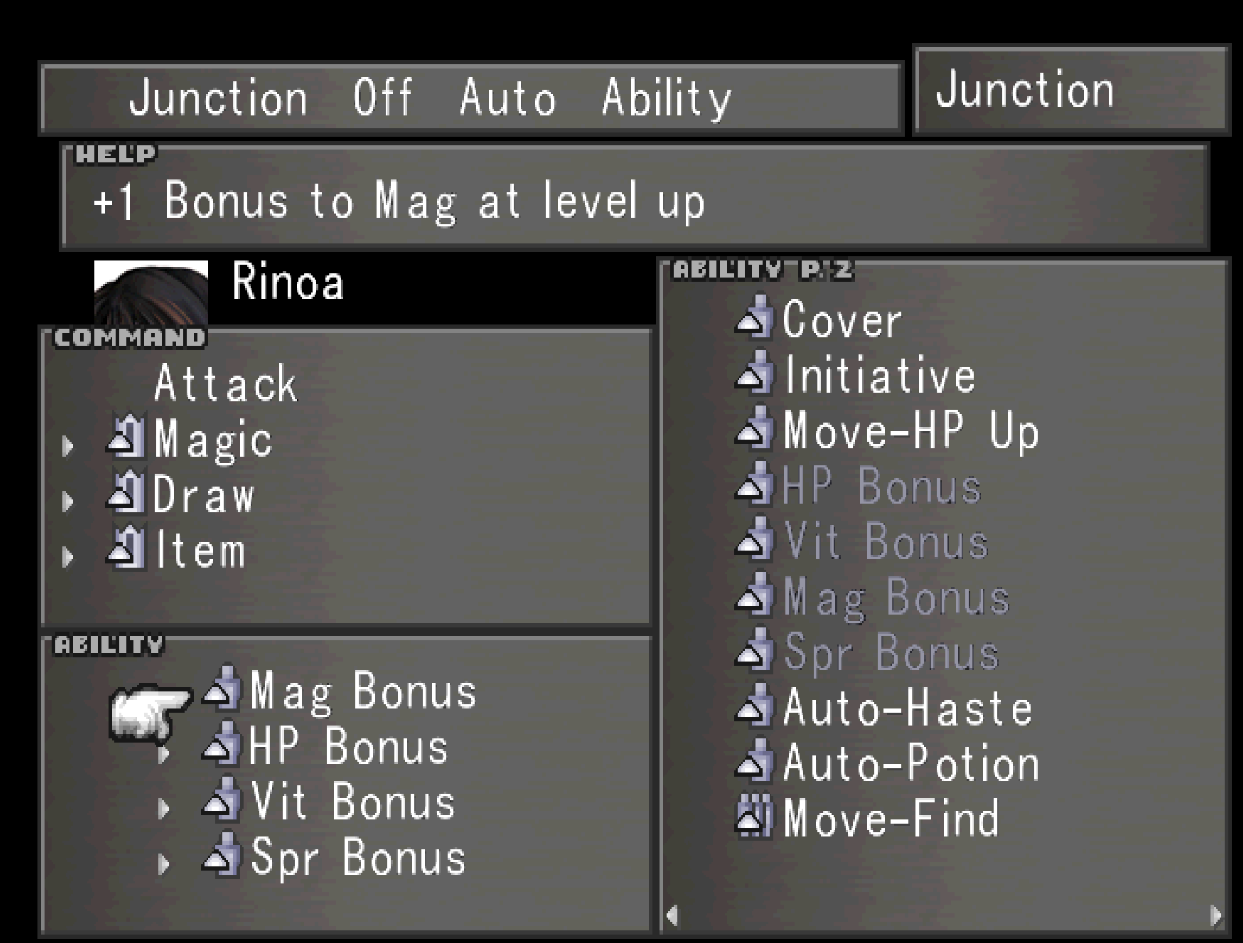 Curse Spikes can be used for a Rosetta Stone if you need it or Luck-J Scrolls; you should also save a few for Selphie's Strange Vision Ultimate Weapon while doing this all. It's up to you how far you'd like to take this... You only need 1 Rosetta Stone assuming you only got the one in Esthar earlier in on Disc 3 (or you can just go get it right now).
If you were lucky enough to get a Rosetta Stone from Galbadia Prison during Disc 2 then you won't need any of them at all. Or if you'd prefer to wait until Disc 4 and get the Rosetta Stone in Ultimecia Castle you can do that too. It'll be a lot easiest than farming 100 Curse Spikes for one here.
You will also need one Luck-J Scroll, since you can get the other from the Obel Lake Side Quest. Either way, before you complete Deep Sea Research Center and get Eden it's recommended you get at least 1 Dark Matter and another 100 Curse Spikes (so 200 Curse Spikes in total).
Farming some of the other Fixed Encounters is beneficial too since they have other valuable items. As I say on the Deep Sea Research Center Fixed Encounters Guide, I recommend you run a circuit around the bottom portion of the dungeon. You'll spend most of your time at the top with the Tri-Faces but if you run up and down the entire area five or six times it's a lazy way to get most of the stuff we need.
(Tool-RF) 100 Curse Spike: 1 Dark Matter
(Tool-RF) 1 Dark Matter: 1 Shaman Stone
(GFAbl Med-RF) 1 Shaman Stone: 1 Rosetta Stone
(GFAbl Med-RF) 1 Dark Matter: Luck-J Scroll
It's up to you how far you would like to go with all of this.. Getting so powerful in this game that you practically break it is already easy enough, this is taking it a whole step further!
Another thing you can do right now is the Esthar Unlimited Gil trick. This will allow you to stock up on Aura magic along with a bunch of other items like Elixirs and Megalixirs. Once you acquire the Eden GF you'll be able to turn some of the items you purchase from the Esthar Pet Shop into items that permanently increase your attributes.
For more information about How to Farm Stat Boosting Items I recommend you follow the link and check out that guide. Some of the information on that page you'll have to wait until Disc 4 to do, as it'll require the Card Club Side Quest complete and a lot of Triple Triad playing. However there is a lot you can also do right now, with the Eden GF.
- - - - - - - - - - - - - - - - - - - - - - - - - - - - - - - - - - - - - - - - - - - - - - - -
When you're bored of all the fighting and grinding that's mentioned above, there are numerous Triple Triad Rare Cards available for you. Below is a list of every single Rare Card that you can currently obtain by playing someone. Any Rare Cards that are obtained by defeating a monster are not listed below.
All Currently Available Rare Cards:
Carbuncle Card
Chicobo Card
Quezacotl Card
Shiva Card
Leviathan Card
Angelo Card
Pandemona Card
Alexander Card
Siren Card
Kiros Card (Queen of Cards Side Quest)
Irvine Card (Queen of Cards Side Quest)
Phoenix Card (Queen of Cards Side Quest)
Doomtrain Card (Queen of Cards Side Quest)
Chubby Chocobo Card (Queen of Cards Side Quest)
Selphie Card
Quistis Card
Gilgamesh Card
MiniMog Card
Zell Card
Rinoa Card
Edea Card
Seifer Card
Squall Card
That's all there is to this chapter, when you're ready to proceed with the game's story you'll want to head over to Esthar and to the Presidential Room. I'd recommend creating an additional save file somewhere else at this point in the game incase you ever wish to return to here. Once you complete the Lunatic Pandora dungeon and move onto Disc 4 you'll be cut off from much of the game.
Continue to Lunatic Pandora (Part 2) (Disc 3) Walkthrough
Return to Lunar Base & Ragnarok Walkthrough