Act 3 Quest 4: Lam Esen's Tome - Diablo 2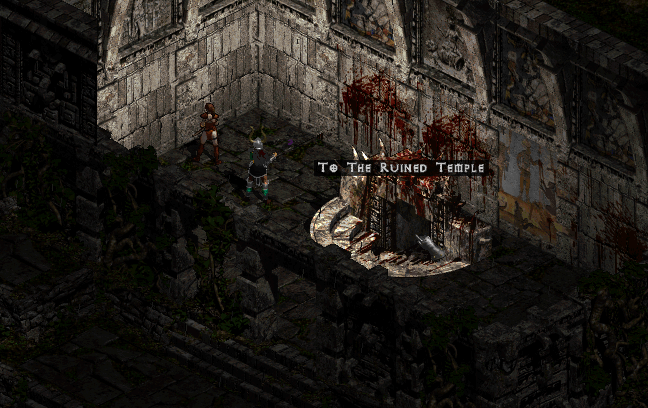 Quest Location: The Ruined Temple
Quest NPC: Alkor
Quest Goal: Retrieve Lam Esen's Tome
Reward: 5 Attribute Points
Flag: N/A
You can begin this quest after completing Act 3: Quest 2 Blade of the Old Religion by speaking with Alkor; you can also start it whenever you want by picking up Lam Esen's Tome in Ruined Temple. The only thing you actually have to do for this quest is to go to the Ruined Temple, pick up Lam Esen's Tome and return it to Alkor.
The Ruined Temple always spawns in the Kurast Bazaar and Lam Esen's Tome always spawns inside of the Ruined Temple. What you're looking for is a small pedestal (pictured below) which you'll want to click on to retrieve the tome.
Note: You will not get credit for this quest unless you are in the Ruined Temple when Lam Esen's Tome is clicked.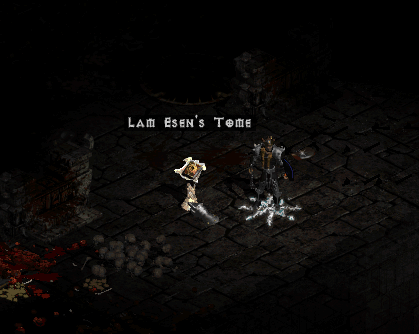 Returning Lam Esen's Tome to Alkor will net you 5 attribute points to spend and some discounts when shopping in Kurast. The attribute points you obtain from this quest is a permanent reward and for that reason it's highly recommended you do this quest on every single difficulty.
For a list of all the other quests in Diablo 2 that offer you permanent rewards like this one I recommend you check out my Diablo 2 Quests that offer permanent rewards guide!
Act 3 Quest 1: The Golden Bird -- Act 3 Quest 2: Blade of the Old Religion -- Act 3 Quest 3: Khalim's Will -- Act 3 Quest 4: Lam Esen's Tome
Act 3 Quest 5: The Blackened Temple -- Act 4 Quest 6: The Guardian
Return to Diablo 2 Quest Walkthroughs Index
Return to Diablo 2 Guides Index