Act 5 Quest 1: Siege on Harrogath - Diablo 2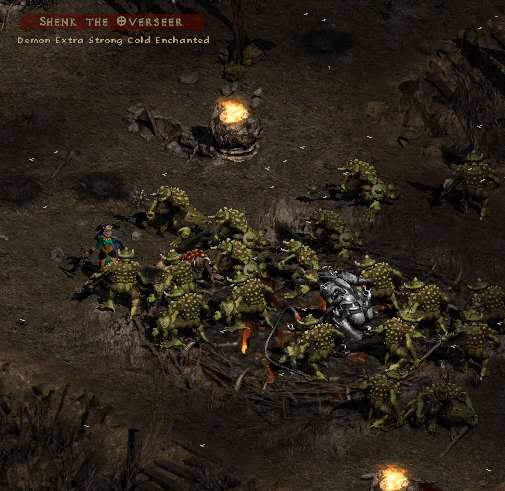 Quest Location: Bloody Foothills
Quest NPC: Larzuk
Quest Goal: Defeat Shenk the Overseer
Reward: Add Sockets to an item of your choosing
Flag: N/A
This quest begins when you approach Shenk the Overseer in Bloody Foothills, the first hostile zone in Act V. You'll find Shenk at the northwestern most portion of Bloody Foothills; if you have someone who is giving you Waypoints it's significantly easier to fast travel to Frigid Highlands and go down the stairs a little south to find Shenk.
Once you've killed Shenk all that's left is to return to town and speak with Larzuk to complete the quest. Your reward for this quest is the ability to add Sockets into any item that you'd like to making this one of the more unique rewards possible in the game. I strongly recommend you save this reward until you find an item you'd like to Socket, for more information read my Larzuk 'Add Socket' Permanent Reward Guide.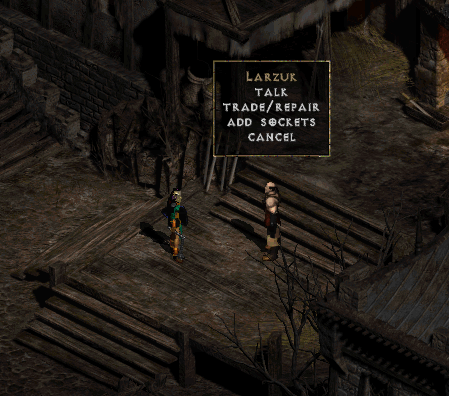 The last thing I feel worth mentioning about this location is that Shenk is part of one of the most common farming locations in the game better known as Shenk and Eldritch. Just north of the Frigid Highlands Waypoint there is a Super Unique by the name of Eldritch and just south of the Waypoint you'll find Shenk, another Super Unique. Sometimes you can even find a Champ/Boss pack close to either of these guys which makes it even better.
People farm these two enemies mostly because of how convenient it is. They're both extremely close to the Waypoint and very easy to take out, since the Area Level for both Bloody Foothills and Frigid Highlands is 80/81 it means that they can also drop most of the loot in the game.
Act 5 Quest 1: Siege on Harrogath -- Act 5 Quest 2: Rescue on Mount Arreat -- Act 5 Quest 3: Prison of Ice -- Act 5 Quest 4: Betrayal of Harrogath
Act 5 Quest 5: Rite of Passage -- Act 5 Quest 6: Eve of Destruction
Return to Diablo 2 Quest Walkthroughs Index
Return to Diablo 2 Guides Index