Helm Rune Words in Diablo 2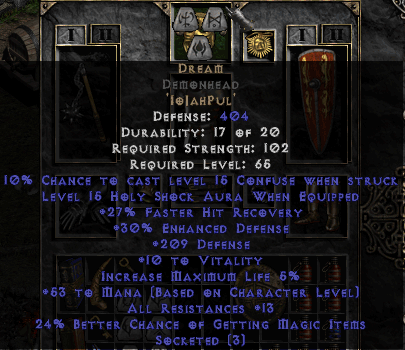 This page is a list of all the different Rune Words you can make using Helms slots in Diablo 2. They're listed from lowest level to highest level and I have included all relevant information that you could need to know about each Rune Word. If you don't already know, there is actually an easy trick to get all Rune Words on Single Player for Diablo 2 as well and this includes on version 1.14D.
Check out my How to get Ladder Only Rune Words on Singleplayer Guide for more information on how to do this. For more information about other Rune Words that you can make you should follow the links below to my other Rune Word related guides.
List of Armor Rune Words
List of Helm Rune Words
List of Shield Rune Words
List of Weapon Rune Words
List of Intermediate Rune Words
Return to Diablo 2 Crafting Guides Index
NefTir
Required Runes:

Nef --

Tir
Level Req: 13
Other Req: N/A
Slots: Helm
+50% Enhanced Defense
+10 Defense
+30 Defense vs. Missile
+5 to Strength
+2 to Mana after each Kill
-33% Extra Gold from Monsters
-3 to Light Radius
Level 13 Cloak of Shadows (9 charges)
---
NefSolIth
Required Runes:

Nef --

Sol --

Ith
Level Req: 27
Other Req: N/A
Slots: Helm
+75% Enhanced Defense
+30 Defense vs. Missiles
+10 to Vitality
+10 to Energy
+33 to Mana
Damage Reduced by 7
Magic Damage Reduced by 3
15% Damage Taken Goes to Mana
+5 to Light Radius
---
OrtSol
Required Runes:

Ort --

Sol
Level Req: 27
Other Req: N/A
Slots: Helm
+1 to All Skills
+10 to Energy
Lightning Resist +30%
Damage Reduced by 7
+2 to Mana after each Kill
+2 to Light Radius
---
LemIstIo
Required Runes:

Lem --

Ist --

Io
Level Req: 51
Other Req: N/A
Slots: Helm
1% Chance To Cast Level 50 Delirium When Struck
6% Chance To Cast Level 14 Mind Blast When Struck
14% Chance To Cast Level 13 Terror When Struck
11% Chance To Cast Level 18 Confuse On Striking
+2 To All Skills
+261 Defense
+10 To Vitality
50% Extra Gold From Monsters
25% Better Chance of Getting Magic Items
Level 17 Attract (60 Charges)
---
IoJahPul
Required Runes:

Io --

Jah --

Pul
Level Req: 65
Other Req: Ladder Only
Slots: Helm and Shields
Both
10% Chance To Cast Level 15 Confuse When Struck
Level 15 Holy Shock Aura When Equipped
+20-30% Faster Hit Recovery (varies)
+30% Enhanced Defense
+150-220 Defense (varies)
+10 To Vitality
+(0.625*Clvl) To Mana (Based On Character Level)
All Resistances +5-20 (varies)
12-25% Better Chance of Getting Magic Items (varies)
Headgear
Increase Maximum Life 5%
Shields
+50 To Life