SoD Leveling Guide - Toskirakk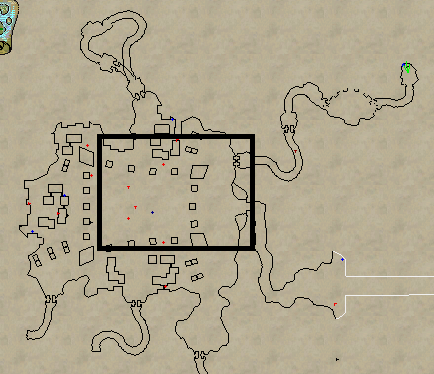 Toskirakk is a massive zone and this leveling guide is only going to cover an extremely small portion of the zone. Basically when you follow the linear path from where you enter the zone from The Void at you'll come across an absolutely massive room with a small gazebo enclosure in the center of it - shown on my map above.
All around this gazebo you'll find boars which con Relatively Weak and are some of the highest level Relatively Weak enemies you can find in the SoD expansion. The only downside to this though is they're mixed in with regular enemies which could pose an issue if you're undergeared, leveled or AA'd.
I'd only recommend this location to those who can occasionally handle one of the regular enemies of this expansion. There are much better alternatives if you can *only* kill Relatively Weak enemies, like Oceangreen Hills, Oceangreen Village or even Field of Scale.
Additional Information
- In order to reach this zone you'll need to go through The Void which can be reached from Plane of Time. There's two easy ways to reach Plane of Time, the Guild Hall portal or a Wizard/Druid. Or you could speak with the NPC in PoK that ports you here, Herald of Druzzil Ro. He's found east of the small bank but before the Soul Binder.
- There is a second floor of Toskirakk not shown on my map above. There are a few named enemies that spawn up here as well as Zayenaekk an NPC used in the Plane of War Attunement Quest.
- There is a series of quests called The Rallosian Battle Figure which take place in Toskirakk and the other "earth" based zones connected to it. Completing the quest rewards you with a Rallosian Battle Figure clicky that increases your HP/MP by 450.
Some of the Worthwhile Loot:
Diamond
Sunshard Ore
Sunshard Pebble
Defiant Gear
Battle Fractured Diamond
Cabilisian Diamond
Taafeite
Staurolite
Prestidigitase
Harmonagate
Chronal Resonance Dust