SoD Leveling Guide - Oceangreen Village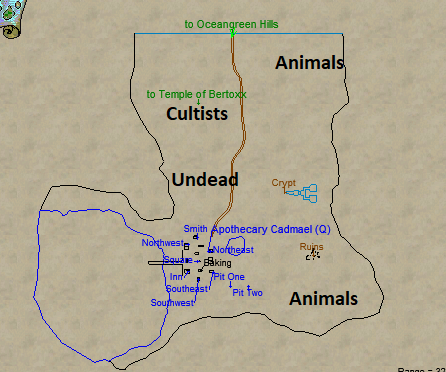 Oceangreen Village is the continuation of the SoD entry zone, Oceangreen Hills. Much like Oceangreen Hills this zone is packed full of Relatively Weak enemies which will be prime targets for anyone out there who doesn't have the levels, gear or AAs required to kill regular enemies.
As I mentioned on the Oceangreen Hills page if you're stuck killing the Relatively Weak enemies I recommend tossing up LFG and also asking occasionally in both Oceangreen Hills and Village for any rots (assuming there is a group there).
If you'd like you can also zone into the Temple of Bertoxxulous and ask in that zone for any rots as well. The large corruption looking pillar surrounded by Cultists is where you'll find the entrance to the Temple - you just drop down the hole and you zone in. The zone in inside the temple is safe but you might agro a cultist on your way in or while zoning out.
Additional Information
- In order to reach this zone you'll need to go through The Void which can be reached from Plane of Time. There's two easy ways to reach Plane of Time, the Guild Hall portal or a Wizard/Druid. Or you could speak with the NPC in PoK that ports you here, Herald of Druzzil Ro. He's found east of the small bank but before the Soul Binder. Once you're in The Void take the portal to Oceangreen Hills. Once in this zone run south and you'll come across Oceangreen Village.
- There is a reward for completing every single quest in the Oceangreen Hills/Village area, an extremely powerful augmentation for this level range called Bayle's Heraldic Crest. For more information on the quest itself check the Allakhazam Bayle's Heraldic Quest Guide.
Some of the Worthwhile Loot:
Diamond
Sunshard Ore
Sunshard Pebble
Defiant Gear
Battle Fractured Diamond
Cabilisian Diamond
Taafeite
Staurolite
Prestidigitase
Harmonagate
Chronal Resonance Dust