Post Mercenary Leveling Guide - Old Sebilis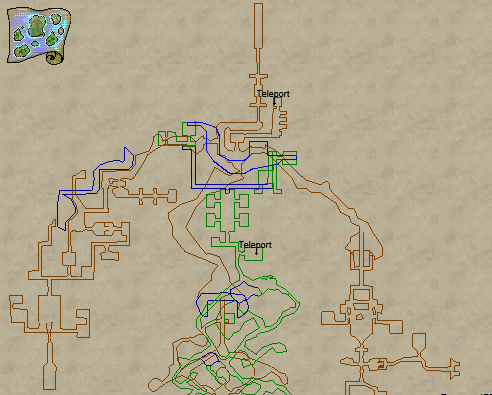 I recommend you hang out around the northern Crossroads portion of Old Sebilis for levels 50 - 55. Where it says Teleporter on the map above is the zone out - there is a ton of mobs to kill in proximity of that location and you'll be able to rapidly go from 50 - 55 there.
Once you want to start pushing your limits in the zone I recommend traveling down towards Disco 1 and 2 which are on the right hand side of the above map. As you progress down you'll get some larger pulls but the mobs will generally all still stay the same level. It isn't until you reach Disco 1 that they jump up in level and then another level increase at Disco 2.
Additional Information
- There is a raid boss in this zone, Trakanon.
- This zone gets revamped once a year to a level 105 version during Hardcore Heritage.
Old Sebilis Allakhazam Zone Information
Old Sebilis TLP Leveling Guide
Old Sebilis Original Almar's EQ Leveling Guide
This guide may contain errors or inaccuracies since the game has changed a lot since I wrote it.
It also contains a lot of information not found on this page about the zone and the mobs in it.
Old Sebilis Original AA EQ Leveling Guide