Post Mercenary Leveling Guide - Crushbone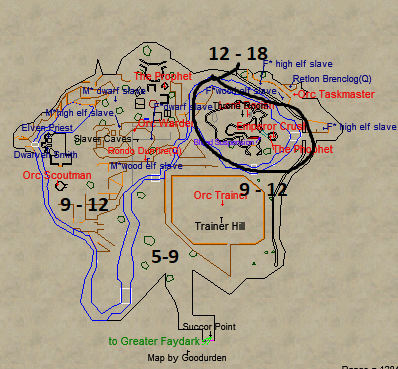 Almost everyone knows Crushbone by now I would expect - if not this will be a perfect time for you to learn!
Lower levels will want to hang out in the area just south of Trainer Hill. There's a bunch for you to kill around here and your Tank Mercenary will make quick work of anything that agros you. Move into the zone further either northeast or northwest once you're ready to take on some bigger challenges.
If you decide to stay in Crushbone into your mid to late teens the best place for you to slaughter some orcs is in the castle area which I have circled on the map above. In here you'll find the Throne Room which has Emperor Crush as well as a few other more tougher nameds you may want to avoid.
Additional Information
- These are some of the easiest mobs you can find in this level range
- At this point in time the Crushbone Belts/Shoulders quest would be a waste of time to do.
- This zone gets revamped during Hardcore Heritage (spring/summer) and will higher level during that time.
Crushbone Allakhazam Zone Information