List of Runes & Socket Bonuses - Diablo 2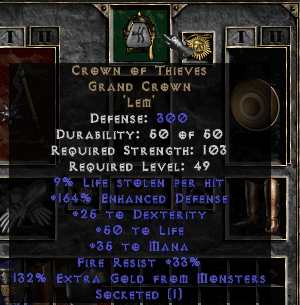 This page contains a list of every single High Rune in Diablo 2 and what effect it will have when placed into your Weapon, Armor, Shield or Helm. I also included the level of the rune, just for good measure. Since I was unable to find a guide like this online, I was inspired to make one.
For those of you out there who are curious, you can read up more about the drop rate of High Runes from The Countess on this page.
High Rune Horadric Cube Recipes
High Rune Bonuses in Weapons/Shields/Armor/Helms
El Rune
Level: 11
Weapon: +50 AR and +1 Light Radius
Armor: +1 Light Radius and +15 Defense
Shield: +1 Light Radius and +15 Defense

Eld Rune
Level: 11
Weapon: 75% Damage vs Undead (also displays as +50 Attack Rating vs Undead)
Armor: 15% Slower Stamina Drain
Shield: +7& Blocking

Tir Rune
Level: 13
Weapon: +2 Mana Per Kill
Armor: +2 Mana Per Kill
Shield: +2 Mana Per Kill

Nef Rune
Level: 13
Weapon: Knockback
Armor: +30 Defense vs Missile
Shield: +30 Defense vs Missile

Eth Rune
Level: 15
Weapon: -25% Target Defense
Armor: Regenerate Mana 15%
Shield: Regenerate Mana 15%

Ith Rune
Level: 15
Weapon: +9 Maximum Damage
Armor: 15% Damage taken returned as Mana
Shield: 15% Damage taken returned as Mana

Tal Rune
Level: 17
Weapon: 75 Poison damage over 5 seconds
Armor: +35% Poison Resistance
Shield: +35% Poison Resistance

Ral Rune
Level: 19
Weapon: +5 - 30 Fire Damage
Armor: +35% Fire Resistance
Shield: +35% Fire Resistance

Ort Rune
Level: 21
Weapon: +1-50 Lightning Damage
Armor: +35% Lightning Resistance
Shield: +35% Lightning Resistance

Thul Rune
Level: 23
Weapon: +3 - 14 Cold Damage
Armor: +35% Cold Resistance
Shield: +35% Cold Resistance

Amn Rune
Level: 25
Weapon: 7% Life Stolen Per Hit
Armor: Attacker takes 14 damage
Shield: Attacker takes 14 damage

Sol Rune
Level: 27
Weapon: +9 Minimum Damage
Armor: -7 Damage Taken
Shield: -7 Damage Taken

Shael Rune
Level: 29
Weapon: +20% Increased Attack Speed
Armor: +20 Faster Hit Recovery
Shield: +20 Faster Hit Recovery

Dol Rune
Level: 31
Weapon: Hit causes monsters to flee 26%
Armor: Replenish Life +7
Shield: Replenish Life +7

Hel Rune
Level: None
Weapon: -20 Requirements
Armor: -15 Requirements
Shield: -15 Requirements

Io Rune
Level: 35
Weapon: +10 Vitality
Armor: +10 Vitality
Shield: +10 Vitality

Lum Rune
Level: 37
Weapon: +10 Energy
Armor: +10 Energy
Shield: +10 Energy

Ko Rune
Level: 39
Weapon: +10 Dexterity
Armor: +10 Dexterity
Shield: +10 Dexterity

Fal Rune
Level: 41
Weapon: +10 Strength
Armor: +10 Strength
Shield: +10 Strength

Lem Rune
Level: 43
Weapon: +75% Extra Gold from Monsters
Armor: +50% Extra Gold from Monsters
Shield: +50% Extra Gold from Monsters

Pul Rune
Level: 45
Weapon: +75% Damage to Demons (sometimes reads as + 100 Attack Rating against Demons)
Armor: +30% Defense
Shield: +30% Defense

Um Rune
Level: 47
Weapon: 25% Chance of Open Wounds
Armor: +15% All Resistances
Shield: +22% All Resistances

Mal Rune
Level: 49
Weapon: Prevent Monster Healing
Armor: Reduce Magic Damage by 7
Shield: Reduce Magic Damage by 7

Ist Rune
Level: 51
Weapon: +30% Better chance of finding Magical Items
Armor: +25% Better chance of finding Magical Items
Shield: +25% Better chance of finding Magical Items

Gul Rune
Level: 53
Weapon: +20% Attack Rating
Armor: +5% Max Poison Resist
Shield: +5% Max Poison Resist

Vex Rune
Level: 55
Weapon: 7% Mana Stolen per hit
Armor: +5 Maximum Fire Resist
Shield: +5 Maximum Fire Resist

Ohm Rune
Level: 57
Weapon: +50% Damage
Armor: +5 Maximum Cold Resist
Shield: +5 Maximum Cold Resist

Lo Rune
Level: 59
Weapon: 20% Chance of Deadly Strike
Armor: +5 Maximum Lightning Resist
Shield: +5 Maximum Lightning Resist

Sur Rune
Level: 61
Weapon: 20% Chance of Hit Blinds Target
Armor: Increase Max Mana by 5%
Shield: +60 Mana

Ber Rune
Level: 63
Weapon: 20% Chance of Crushing Blow
Armor: Damage Reduced by 8%
Shield: Damage Reduced by 8%

Jah Rune
Level: 65
Weapon: Ignore Target Defense
Armor: Increase Max Health by 5%
Shield: +50 Hit Points

Cham Rune
Level: 67
Weapon: Freezes Target +3
Armor: Cannot be Frozen
Shield: Cannot be Frozen

Zod Rune
Level: 69
Weapon: Indestructible
Armor: Indestructible
Shield: Indestructible