SoD Leveling Guide - Rathe Council Chambers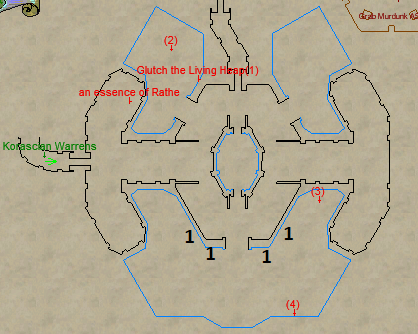 To be honest I haven't really explored much of Rathe Council Chambers except for the camp I am going to tell you about in this guide. When you zone in from Korascian Warrens go directly south and you'll come across a wide open area with a bunch of trees and fallen trees that kind of looks like an animal enclosure. This is the area!
Generally I camp immediately to the right or left upon entering the enclosure with the giant field, where you see the 1s on my map. The large muddite looking guys in the area see invis and I think the frogs as well but the rest you can safely skirt by.
Additional Information
- In order to reach this zone you'll need to go through The Void which can be reached from Plane of Time. There's two easy ways to reach Plane of Time, the Guild Hall portal or a Wizard/Druid. Or you could speak with the NPC in PoK that ports you here, Herald of Druzzil Ro. He's found east of the small bank but before the Soul Binder.
- There is a series of quests called The Rallosian Battle Figure which take place in Toskirakk and the other "earth" based zones connected to it. Completing the quest rewards you with a Rallosian Battle Figure clicky that increases your HP/MP by 450.
Some of the Worthwhile Loot:
Diamond
Sunshard Ore
Sunshard Pebble
Defiant Gear
Battle Fractured Diamond
Cabilisian Diamond
Taafeite
Staurolite
Prestidigitase
Harmonagate
Chronal Resonance Dust