Post Mercenary Leveling Guide - Wall of Slaughter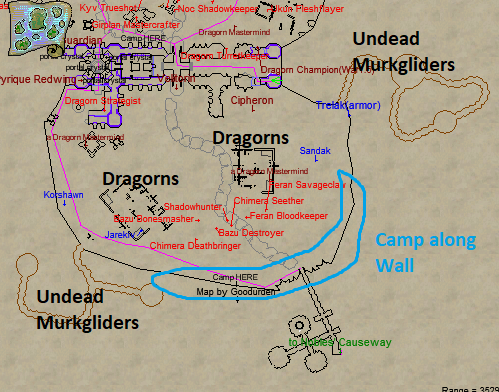 Wall of Slaughter was arguably the most popular zone during the Omens of War expansion pack. Many of you likely already know this zones ins and outs but for those who don't; keep on reading! Wall of Slaughter, also known as, WoS is a huge zone with many different locations for you to do some killing.
The southern wall of the zone nearby the Noble's Causeway ZL is one of the better known group locations here.
Additional Information
Wall of Slaughter Allakhazam Zone Information
Wall of Slaughter TLP Leveling Guide
Wall of Slaughter Original Almar's EQ Leveling Guide
This guide may contain errors or inaccuracies since the game has changed a lot since I wrote it.
It also contains a lot of information not found on this page about the zone and the mobs in it.
Wall of Slaughter Undead Murkgliders Leveling