Post Mercenary Leveling Guide - Nagafen's Lair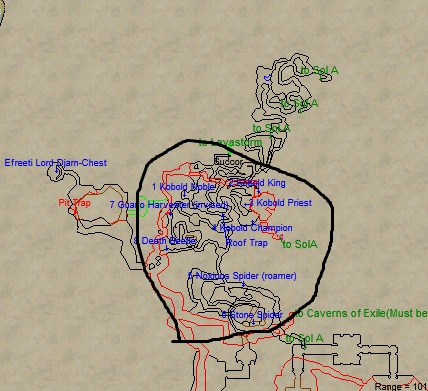 Another alternative to City of Mist is Nagafen's Lair which is more commonly known as SolB. If you zone in from Lavastorm Mountains you'll find tons of kobolds to kill, each of them usually dropping a couple plat with each kill. If you're in the high 30s or low 40s I recommend you hang around the Lavastorm Mountains ZL in SolB.
Once you gain a few levels and feel comfortable taking some risks move down a bit south towards where you see Noxious Spider on the map. You won't be fighting as many kobolds the further south you go instead you'll start fighting different bugs and animals.
Additional Information
- This zone gets revamped during Hardcore Heritage which occurs during spring/summer. During that time this zone won't be your level.
- This zone has one of the main classic EQ raid bosses in it, Lord Nagafen.
Nagafen's Lair Allakhazam Zone Information
Nagafen's Lair TLP Leveling Guide
Nagafen's Lair Original Almar's EQ Leveling Guide
This guide may contain errors or inaccuracies since the game has changed a lot since I wrote it.
It also contains a lot of information not found on this page about the zone and the mobs in it.