SoD Leveling Guide - Korascian Warrens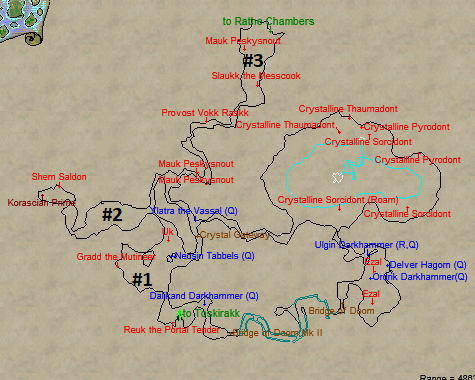 Korascian Warrens is a huge zone with a ton of mobs to kill but not too many are actually worth hunting. This is actually one of the better zones for people looking to solo that can actually handle regular mobs since it's extremely easy to get single pulls here.
This zone is also the zone where you complete the Rank 5 Journeyman Mercenary Tasks. As you can see on the map above I have broken the zone down into three different locations. #1 is good for soloers; #2 Is for small groups and #3 for full groups or really well geared small groups.
#1: There are a bunch of single pulls for you in this location. Plenty of safe locations to camp and you're near the Tosk zone line if anything goes south.
#2: This location is part of the Journeyman Merc task so it will get a bit more traffic than most leveling locations. There is a mixture of single and 2 pulls in this area.
#3: Mobs are practically every where up here. You have Goblins, Ogres and a few other different enemy types. Expect 2 or 3 enemies per pull, getting singles up here would be a difficult task.
Additional Information
- In order to reach this zone you'll need to go through The Void which can be reached from Plane of Time. There's two easy ways to reach Plane of Time, the Guild Hall portal or a Wizard/Druid. Or you could speak with the NPC in PoK that ports you here, Herald of Druzzil Ro. He's found east of the small bank but before the Soul Binder. Once in The Void you'll need to travel to Toskirakk which is the zone connected to Korascian Warrens.
- The upper right hand area on the map with the Crystalline Sorcidont looks like a great wide open area to hunt but the mobs up here Mana Drain. Trust me on this one, it's too good to be true!
- There is a series of quests called The Rallosian Battle Figure which take place in Toskirakk and the other "earth" based zones connected to it. Completing the quest rewards you with a Rallosian Battle Figure clicky that increases your HP/MP by 450.
Some of the Worthwhile Loot:
Diamond
Sunshard Ore
Sunshard Pebble
Defiant Gear
Battle Fractured Diamond
Cabilisian Diamond
Taafeite
Staurolite
Prestidigitase
Harmonagate
Chronal Resonance Dust