Gwent: Big City Players - Novigrad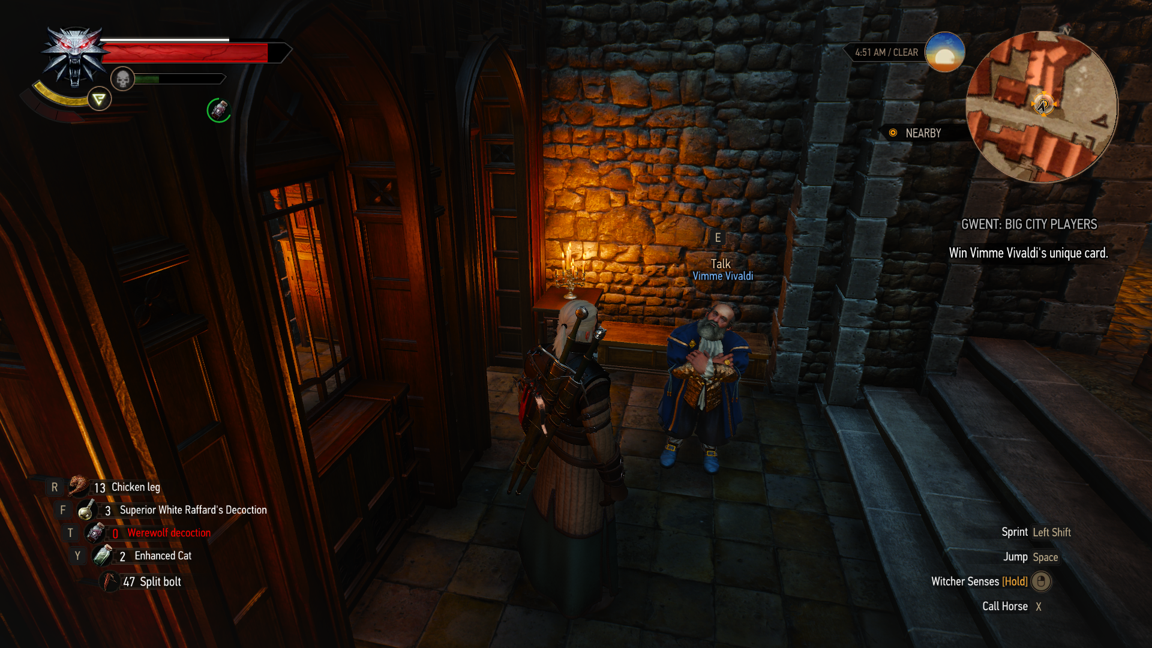 Area: Novigrad
Location: Novigrad
Quest Giver: Hierarch Square Notice Board
Other Requirements: N/A
This quest begins by examining the Notice Board in Hierarch Square of Novigrad; you can also play Gwent against Vimme Vivladi at the bank to begin this quest. Beat him in a game of Gwent and he'll tell you about Marquise Serenity, a woman who can be found at the Passiflora in northern Novigrad. She'll be your next opponent.
Beating Marquise Serenity will send you to your next opponent who is Sigi Reuven (Dijkstra), head on over to him and beat him for another rare card. Our final opponent will be Scioa'tael merchant outside of Novigrad in a forest.
Note: If you're on the Final Preparations Quest or one of a few future story quests after you meet back up with Ciri you be unable to visit Dijkstra. He'll only be temporarily unavailable during this time. However, be sure to play Dijkstra in a game of Gwent before completing the Reason of State Quest. If you choose the outcome in that quest which involves killing Dijkstra, you'll receive his card (Esterad Thyssen) but never get the chance of playing the elf he sends you to next.
If you'd like to know the rare cards you can win from each opponent please check my list below. Additionally, any strategies I have for beating these opponents in Gwent will be listed further down the page as well.
Vimme Vivladi - Vesemir Card
Marquise Serenity - Morvran Voorhis
Sigi Reuven (Dijkstra) - Esterad Thyssen
If you guys have any strategies of your own you'd like to share - please leave a comment below!