An Eye for an Eye - Novigrad/Velen
Area: Velen/Novigrad
Location: Temerian Partisan Hideout
Quest Giver: Vernon Roche
Other Requirements: Complete (most) of the Get Junior Quest
This quest begins during the Get Junior Quest which is a Novigrad Story Quest. In order to do the Reason of State Side Quest later in the game you'll need to complete both this quest as well as A Deadly Plot and Redania's Most Wanted. Completing Reason of State will heavily influence the ending you get for the game.
First thing you will need to do for this quest is speak to Roche at his encampment, also known as the location we first met him. Speaking to him here will update your quest and send you to another area, a bit southwest of where we are now to an area by the name of Hanged Man's Tree.
When you arrive speak with Roche and the quest will update again, sending you down to the town of Hanged Man's Tree where you'll have a fight against a bunch of Nilfgaardian Soldiers. I highly recommend you sprint over to Ves as quickly as possible since she isn't that strong and she can die during this quest, failing it for you.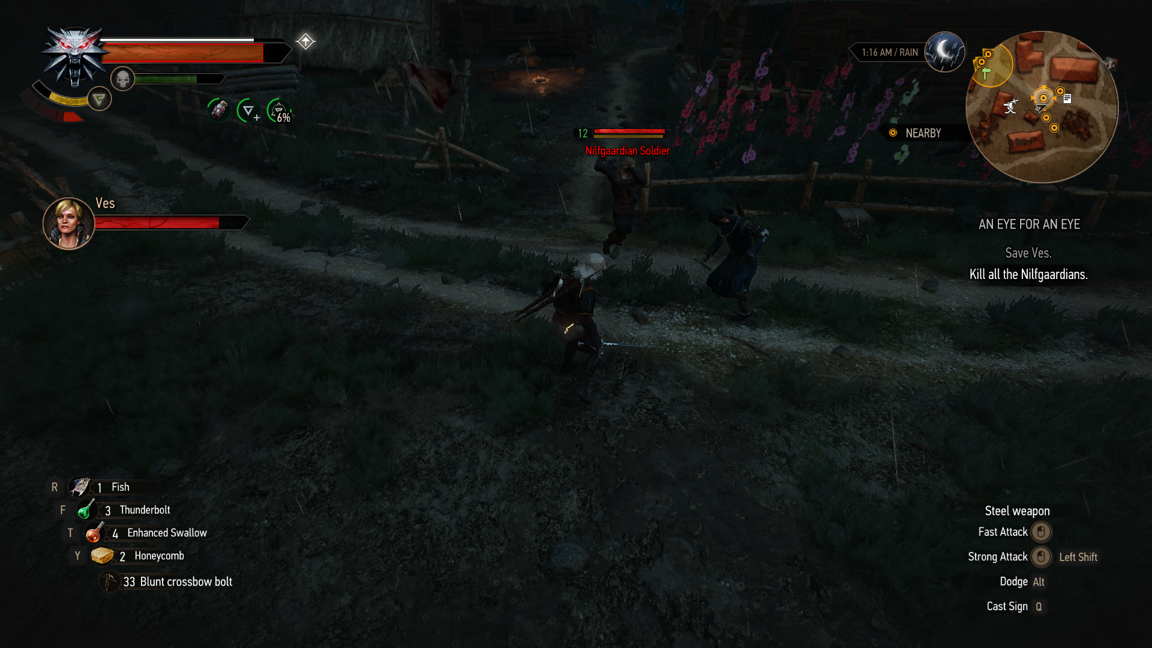 Once you save Ves there will be a cutscene with her getting chewed out by Roche. You'll quickly discover that one Nilfgaardian soldier is still alive too, you'll have to make the decision on whether or not he gets to live or die here. According to Google, there are no long term repercussions with letting him live or die - so choose whichever of the two you want. The quest completes after this.
Completing this quest means you will be able to ask Roche's help during a major future story quest. For more information about this check out my Brothers In Arms: Novigrad Guide.