Osmium Ore Tradeskill Recipes 300 - 350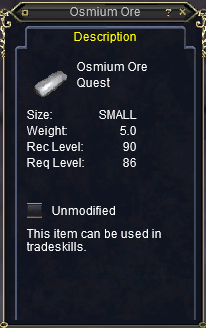 Osmium Ore is one of the high level Cultural Ores that was added into the game during the House of Thule expansion. Cultural Tradeskill materials have a low chance (about 5 - 10%) to drop off enemies around the level bracket that the item shows; so for Osmium Ore that would be enemies 85 - 100.
Those of you looking to farm Osmium Ore will have the best luck in House of Thule or later zones. A few of the locations I recommend you farm are The Library (HoT), Erudin Burning (HoT), Valley of Lunanyn (VoA) and Chelsith Reborn (RoF).
Smithing Osmium Ore Recipes (11 Recipes)
Tailoring Osmium Ore Recipes (6 Recipes)
Extravagant Infused Spiked Leather Whip (Osmium Barbs Subcombine)
Extravagant Uninfused Spiked Leather Whip (Osmium Barbs Subcombine)
Extravagant Infused Fiery Leather Fist Wraps (Osmium Studs Subcombine)
Extravagant Infused Spiked Sap (Osmium Studs Subcombine)
Extravagant Uninfused Fiery Leather Fist Wraps (Osmium Studs Subcombine)
Extravagant Uninfused Spiked Sap (Osmium Studs Subcombine)