How to reach Paludal Caverns
There are multiple entrances to Paludal Caverns - depending on what level you are and where you want to hunt determines whether or not you should enter this zone from Shadeweaver's Thicket or from Shadow Haven. Getting here from Shadeweaver's is pretty darn easy since that zone isn't really maze like.
Once you're in your late teens you'll need to enter Paludal Caverns from the Shadow Haven side -- which is a bit maze like and can definitely be confusing if this is your first time here. As you can see from my map above, as always I recommend you start in The Nexus.
From The Nexus take the eastern most exit to Shadow Haven as shown on my map above. Once in Shadow Haven you'll first need to travel to the east until you reach the more 'outsidey' part of the zone (there's shrubs, dirt and rocks which aren't in the rest of Shadow Haven).
After you make it this far east you'll want to cut south, run across a bridge and then you'll be at Paludal Caverns. If you need help reaching this location use my map below for some extra guidance.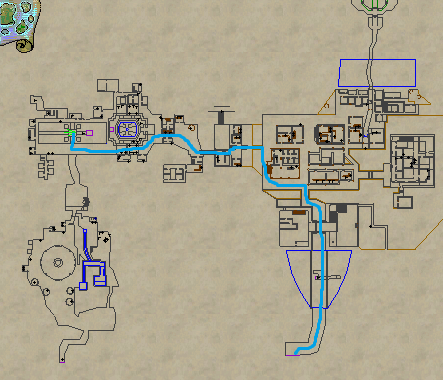 Return to Luclin Era Paludal Caverns Leveling Guide
Return to SoD (Post Mercenary Era) Leveling Guide