Field of Bone - Kunark Leveling Guide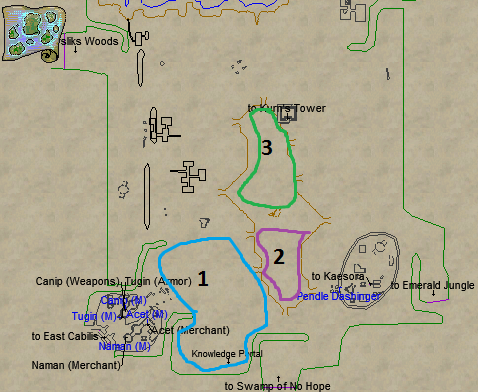 Field of Bone is the Iksar starting zone and is one of the better starting zones to choose from since it has a wide open field that covers most of this level range. Lower level players 1 - 4 will want to stick inside the large blue circle marked with a 1 on my map above.
Once you get to about level 5 you'll want to move into the purple circle area marked with a 2 on my map above. Stay around the walls of this field until you're at least level 8 at which point you can slowly make your way north little by little to the higher level area.
The northern potion of the field that is marked with a green circle and a 3 on my map is good for those close to 10 or slightly above it. This area is an alternative to Kurn's Tower which is up north and arguably even better EXP.
1: Stay in this range 1 - 4 and kill yard trash
2: Move into the crater once you reach level 4/5 and try to find a group
3: You'll want to move up to this location 10 - 15 and try to find a group too. Kurn's Tower is an alternative during these levels as well.
Additional Zone Information
- This zone is remade with the Seeds of Destruction expansion
- You can reach Field of Bone from either Warslik's Woods, Swamp of No Hope or Emerald Jungle
Field of Bone Allakhazam Zone Information
Field of Bone P99 Zone Information