Crescent Reach - Post Mercenary Leveling
Crescent Reach is the universal noobie zone that you most commonly start in once Drakkin becomes a playable race in the TSS expansion. Since this one of the most recent noobie zones added to Everquest it also means it's one of the more difficult ones. If you don't have any twink gear and are starting out completely fresh I recommend you use an easier noobie zone once reaching level 4 or 5 if you're having trouble.
At this point in Everquest you'll also be able to use Mercenaries; I highly recommend you use a Journeyman Tank mercenary. They'll practically be able to solo all monsters that are your level or yellow to you for the next 50 levels. I can't stress enough how much easier a tank merc makes leveling initially.
The first 10 levels are all done in the location shown on the map above. In both areas you'll find plenty of roaming animals to kill which you'll want to con before attacking. That means just right click on them or press "C" to check their level in comparison to yours. Additionally if you're playing on live servers their target window will show what their con is to you as well.
If you're subscribed to the game (a gold member) your Journeyman tank mercenary will be able to handle yellow mobs and some reds until level 50. If you're Free to Play or Silver (Unsubscribed) your tank mercenary will only be able to handle some yellows and barely any reds.
You'll get the hang of what you can and can't do pretty quickly since death in Everquest is a bit more annoying than in other games. You don't lose your gear anymore but after level 6 you do still lose EXP! Once you get closer to level 10 you can start inching your way up towards the lake that's to the north.
The next part of Crescent Reach (the locations in the picture below) really takes a jump in difficulty. If you find it too hard I highly recommend you try Paludal Caverns instead. That'll be an easy place that will offer you the opportunity to get some plat while leveling to pay Mercenary costs and hopefully for some gear.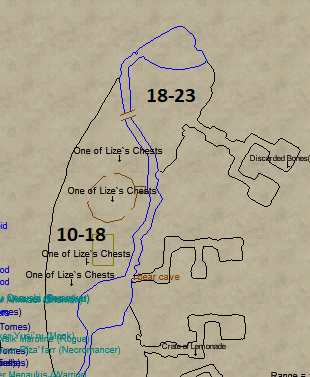 Starting at the 10 - 18 location you'll encounter skeletons which pack quite a punch; some even cast spells! They also are very social with one another so try to pull them away from one another... assuming you don't get rooted which they do frequently.
There is a farm stead here (just a tad north of the lake) which is where I usually hunt between levels 10 - 15. There are a bunch of skeletons here for you to kill as well as some gators surrounding the lake. The safest places for you to pull mobs to (or go AFK) is along side the lake/river's edge.
I'd avoid the building that's north of the farmstead until you're at least level 15 as it has a mixture of tougher enemies as well as the weaker skeletons around the farm. It's also got rooms with 2 - 3 mobs per pull which could turn dangerous pretty fast.
The skeletons don't drop much in terms of vendor trash which makes this mostly an EXP only route. Once you reach 18 you can move to Blightfire Moors or further north in Crescent Reach to harder undead. If you decide to continue in Crescent Reach you'll want to make camp on the bridge that goes over top the river.
You can safely pull any undead you see to this bridge without worrying about more adds or pathers while you're fighting. You can safely go AFK on this bridge all night if you so desired and as long as no one trains you or pulls mobs ontop of you, you'll come back alive in the morning.
Much like the other lower level undead to the south these undead don't have really impressive loot tables either. They drop some coin scraps with each kill and occasionally some Defiant Gear but I wouldn't expect much else from them.
Level 23 is about the highest level you'll want to stay at this location until. You may still be able to find decent EXP here in the tunnels but the main reason we want to leave is because we need better loot drops. Your mercenary is going to cost you as will spells for each level and we'll also need to buy some Defiant Gear too.
Additional Information
- You can also level up 1 - 3 killing bunnies on the side of the zone you start on but I don't support bunny slaughter so I didn't talk about them!
- If you're having trouble managing your Inventory Space I highly recommend you invest in some Extraplanar Trade Satchels which are 32 Slot Tradeskill Bags. Alternatively you could also buy Unexpanded Tailored Backpacks as well. Though, the Backpacks will likely be more expensive. Follow the links provided to learn more about each item.
- During the early levels you should loot some of the weapons/armor you find just to vendor them. I would recommend against this starting at level 10 or so since the benefits of doing so don't really outweight the costs.... However early on we're going to need all the money we can get. It'll be more important than EXP for progressing your character.
- If you need more plat while leveling I strongly recommend you check out my How to make more plat while leveling by Bartering Guide. It'll give you a list of all the different items you should be keeping an eye out for to Barter/Sell!
Crescent Reach Allakhazam Zone Information
Crescent Reach Original Almar's EQ Leveling Guide
This guide may contain errors or inaccuracies since the game has changed a lot since I wrote it.
It also contains a lot of information not found on this page about the zone and the mobs in it.