How to make Soda Water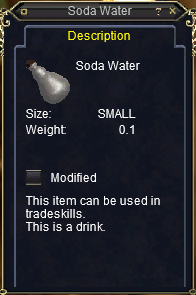 Soda Water is used in multiple different Brewing Recipes and is rather easy to make. All you need to make Soda Water is a single Water Flask and a single Soda. Depending on what expansion it is determines where you'll want to go to purchase Soda. Until Veil of Alaris the best place to get Soda is Shadow Haven.
Once VoA is live on your server you can purchase Soda in PoK from Caden Zharik. For more information, including map locations just follow the link provided for Soda below.
Soda Water
For more information on how to obtain the items required to create Soda Water, follow the links below.

1 Water Flask

1 Soda