Contract: Shrieker - Velen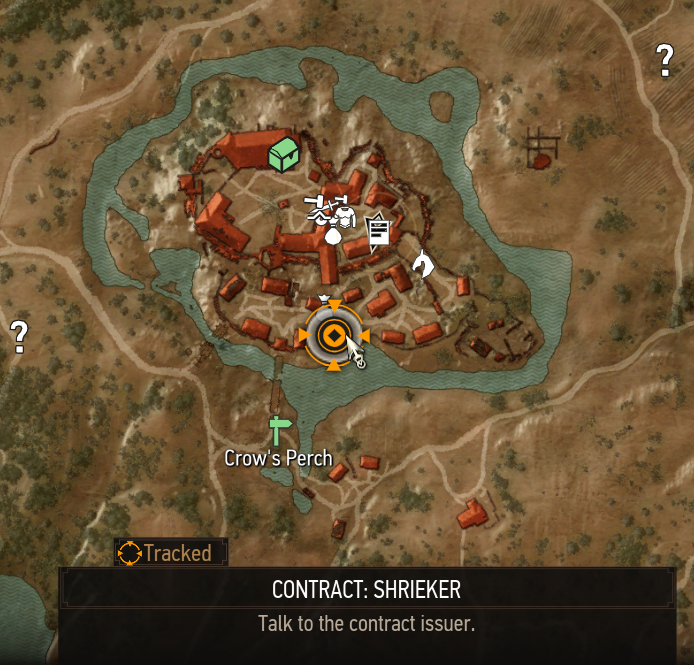 Area: Velen
Location: Crow's Perch
Quest Giver: Crow's Perch Notice Board
Other Requirements: N/A
After accepting this quest the first thing you will need to do is speak with Chet and Symko in Crow's Perch. Both of these NPCs will be marked on your map/compass so you'll have no trouble finding them. Once you've spoken with them your quest will update and send you out to the area where the man was killed.
Technically you do not have to visit this area, all you have to do is go north of it to the monster cave (shown on my map below) and defeat the Shrieker, who is actually a Cockatrice. However if you wish to do the quest the appropriate way, use your Witcher Senses are the location the quest takes you and follow the monster's footsteps to the north.
When you arrive at the cave investigate the feathers right out front then head inside. I recommend reading the Bestiary entry for Shrieker as well as for the Cockatrice too. It contains some helpful info for defeating this beast, as it usually does.
Inside the cave you'll want to use one of your available bombs to smoke out the Cockatrice. It will flee through a back exit and you'll have to chase it down on foot, much like we did for the Griffon earlier in the game. Depending on your difficulty settings and how prepared you are for the fight, it could either be extremely hard or rather easy. Be sure to dodge as much as possible and I recommend the Aard sign, as the Bestiary says.
Tip: When the Cockatrice is airborne hit it with your Crossbow to bring it crashing down to the ground.
Return to Chet in Crow's Perch with the Cockatrice's head once you've taken care of the beast to collect your reward.