Contract: Here Comes The Groom - Skellige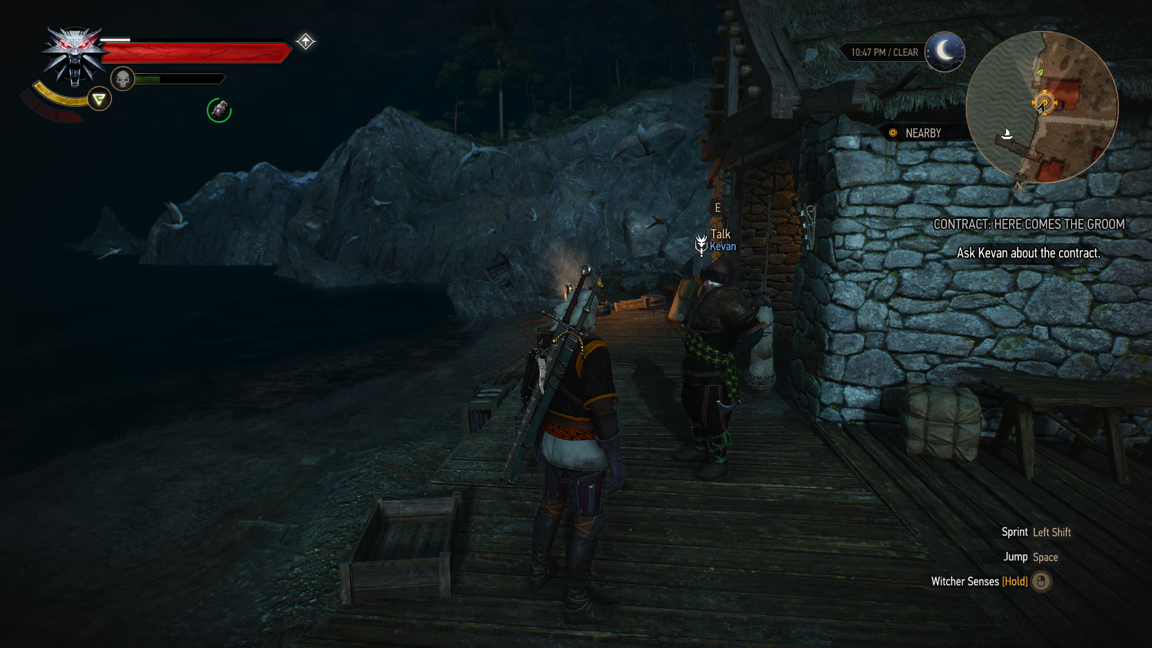 Area: Skellige
Location: Svorlag
Quest Giver: Svorlag Notice Board
Other Requirements: N/A
This quest can be started one of two ways, the first and most common of which is by accepting the notice off of the Svorlag Notice Board. Alternatively you could also accept this quest by stumbling across the cave that it takes place in. If that's the case for you, scroll down to the part of the guide you're on.
First thing you will need to do for this quest is to speak with Kevan who is in the southern portion of Svorlag. He'll fill you in on the contract and update your quest, sending you to an area northeast of Svorlag where his sister is waiting. Speak to her to update your quest again, this time sending you to a cave far to the south of Svorlag.
Inside the cave you'll fight some Drowners as well as find Siren tracks and a trail of blood that leads deeper inside if you use your Witcher Senses. Within the largest room of the cave, the same one with the destroyed wreckage, you'll want to use your Witcher Senses and examine the large statue in the middle. There are many smaller scales throughout the cave that you can find too - both of these items will lead Geralt to conclude that you're after a ekhida. The conclusion will grant you EXP as it generally does on contract quests.
To fight Melusine, the ekhida you will want to exit the cave through the northeastern tunnel. There will be a large open room with many explosive barrels and a few rocks for you to climb up leading out. Outside you will find a corpse next to a rock which upon examination you'll determine is Nils.
Examining the corpse will also summon Melusine whom you'll have to fight to complete the quest. She doesn't have much HP but she'll almost never come within striking range of your sword so you'll have to use Igni, Aard and your Crossbow to take her out.
Melusine Weaknesses: Grapeshot (Bomb), Hybrid Oil, Igni and Aard
Note: After defeating Melusine if you don't see a corpse on the mini map for her - go over to the quest marker on your map for collecting the Trophy and just spam the loot button. This is what I have to do for the quest.