Mutual of Beauclairs Wild Kingdom - Toussaint (Blood and Wine)
Area: Toussaint
Location: Multiple
Quest Giver: Cockatrice Inn Notice Board
Other Requirements: Blood and Wine DLC
This quest starts by accepting the notice from the Cockatrice Notice Board in Toussaint. Once you have done this you'll need to travel to an area right next to the Trading Post Signpost (pictured above). Here you will need to examine two objects to advance the quest forward, the paw prints and the body that is close to them.
Once you've examined these two things Count Borhis will approach you on Horseback and speak with you about the basilisk you're searching for. When you're done speaking with him use your Witcher Senses again to locate more clues. You're looking for Basilisk Scales, Acid burn marks and some crushed barrels with tannin.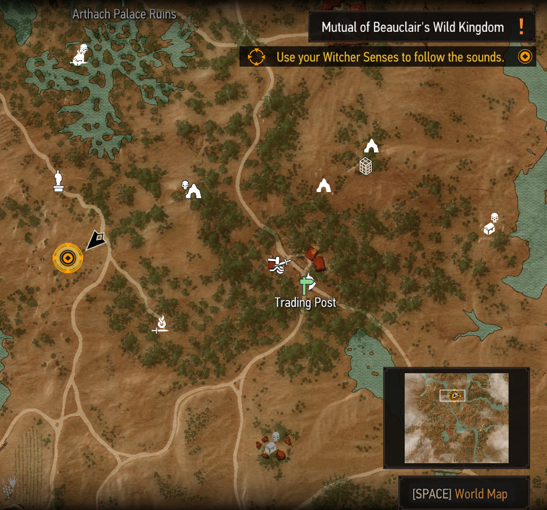 After inspecting the barrels and the venom you'll get a scent trail that you have to follow to the west. If it is day time following this scent trail is extremely difficult, I recommend Meditating until night when it is much more visible. While following the scent trail you'll find the second body which has Coopers' Guild Contract on it, a note for this quest that gives you some more backstory but is not required to find.
Note: Use my map above to figure out exactly where the scent trail leads you if you can't see it.
Eventually the scent trail will lead you to a pack of humans who are currently arguing, speak with them and you'll be presented with two options - kill or don't kill the basilisk. Depending on what you choose there will be ramifications for your actions, below is what you should expect depending on what you choose:
Kill the Basilisk: Count Borhis will claim to make the Herbalists raise their costs for Geralt but he lies. You'll receive the Silver Basilisk Trophy which grants you 1% Chance to Dismember, 1% Bonus EXP from all enemies, 1% Bonus Gold and 1%
Spare the Basilisk: You will occasionally see notices that have Geralt's picture on them, encouraging merchants to raise their prices. Count Borhis will claim to make the Herbalists lower their prices for Geralt but this is a lie. You will receive the Virtue of Compassion for the quest There Can Be Only One if you spare the Basilisk. You'll also receive the Virtue of Compassion if you refuse additional payment from Borhis at the end of this quest.
If you choose to fight Iocaste then you'll have to assign the pack of reavers to a certain role - you can have them focus on attacking with their swords or only using their Crossbows. I recommend the Crossbow route as they'll get in your way a lot less and they'll help bring her down each time she takes flight.
Iocaste Weaknesses: Draconid Oil, Igni, Aard and Golden Oriole