Gaea's Cliff Walkthrough Disc 2 - FF7 Walkthrough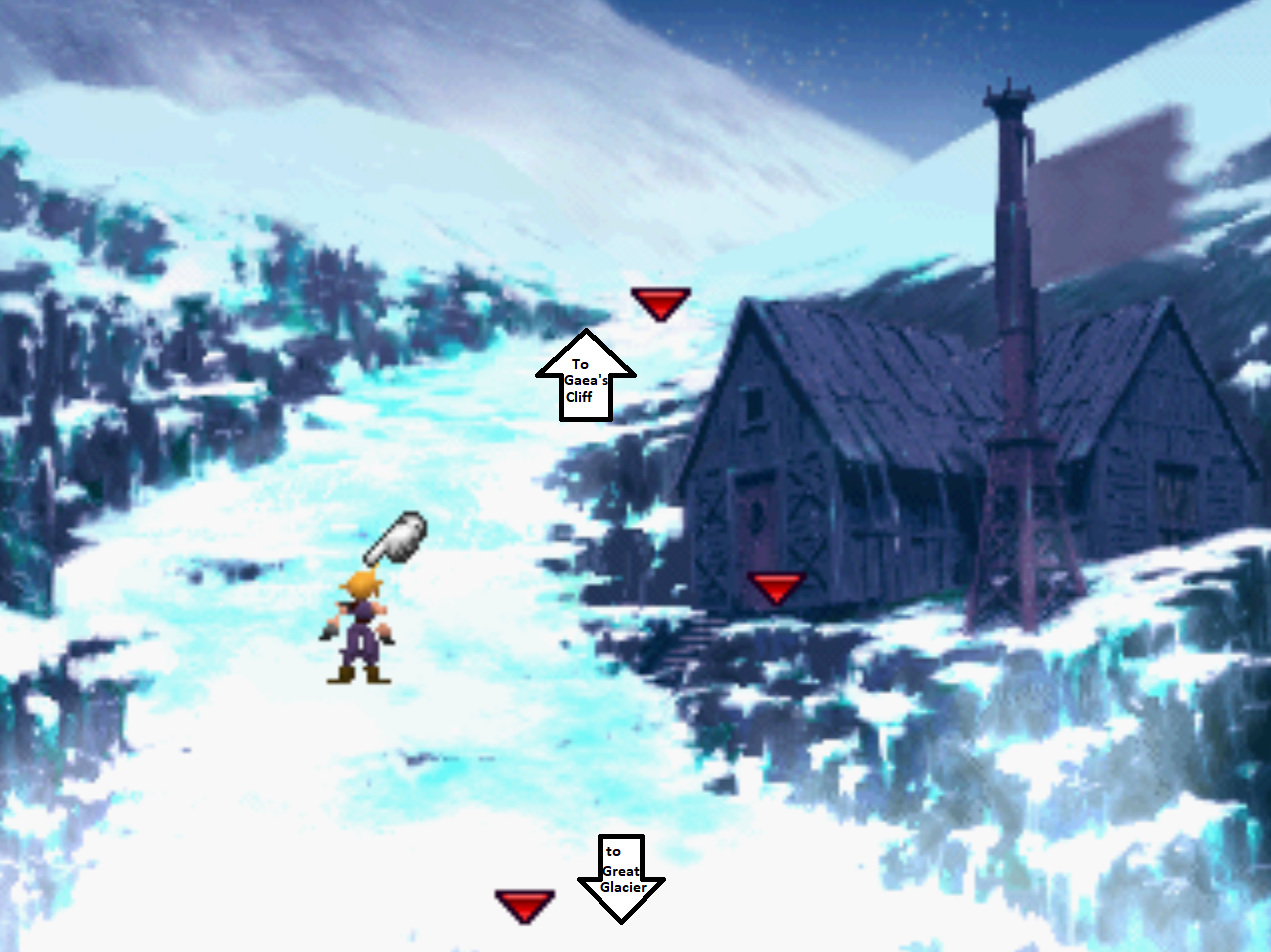 Gaea's Cliff is the area to the north of the Great Glacier and Holzoff's house. When you pass out in the Great Glacier, the house you wake up at (Holzoff's) is just outside the entrance to the Gaea's Cliff dungeon/area (pictured above). Also, if you pass out while in Gaea's Cliff you'll wake up at this same location too.
While you're on Gaea's Cliff you will have to make sure that your body temperature does not drop below 28 degrees or you'll collapse and have to begin again at Holzoff's house. To increase your temperature you'll have to spam the square button, this will get Cloud to rub his arms and apparently that warms his core temperature.
**Important** Once you complete the Gaea's Cliff Dungeon you can never return. Make sure you grab all the items and Enemy Skills prior to leaving here. Trine is especially useful and rare - don't be lazy!
Enemy Skill Tips: There's three Enemy Skills you can learn in this dungeon, outdoors you'll encounter a Malboro enemy which can teach you the Bad Breath Enemy Skill. Inside you'll find a Stilva enemy (looks like the Materia Keeper boss from earlier in the game) who will teach us Trine and Magic Breath Enemy Skills. In order to get him to cast Trine you'll have to use the manipulate skill on him. Keep in mind too that Trine is one of the permanently missable Enemy Skills in this game!
The first area of Gaea's Cliff is a steep mountain side that you'll have to climb - follow the red flags and warm yourself up on every platform. Inside the first room of the dungeon you'll find two items (pictured above), a Ribbon and Javelin. This is the second Ribbon you've come across in the game and if you haven't noticed yet this is one of the best accessories you can get.
Ribbon
Javelin
North of the Javelin in the next room you'll find a boulder that you can push (pictured above) off of its ledge and it'll destroy some ice crystals blocking the path. You'll want to do this to free up the path forward. When you find yourself back outside you'll want to go Up then Right when prompted.
Back inside the first room you come across will have large holes in the floor and an Elixir in a chest in the eastern end of the room. Go through the northeastern exit which takes you to a pseudo outside cliff area that wraps back around and goes back inside.
In this area you'll see some icicles dangling and two treasure chests (pictured above). Each time you run by an icicle you'll get into a random battle with... the icicle and some bats. When you defeat the icicle you win the battle (even if other enemies are alive). The final icicle drops down and destroys the walkway near the chest in the main room we couldn't reach before that has a Speed Source inside.
Elixir
Fire Armlet
Megalixir
Speed Source
Enhance Sword
When you're done in this area go through the northern exit of the room with the fallen icicles, you'll pass another chest along this path with an Enhance Sword inside of it. The next area will be outside in the cold again, at each of the two intersections when prompted you're going to want to select 'Go up'.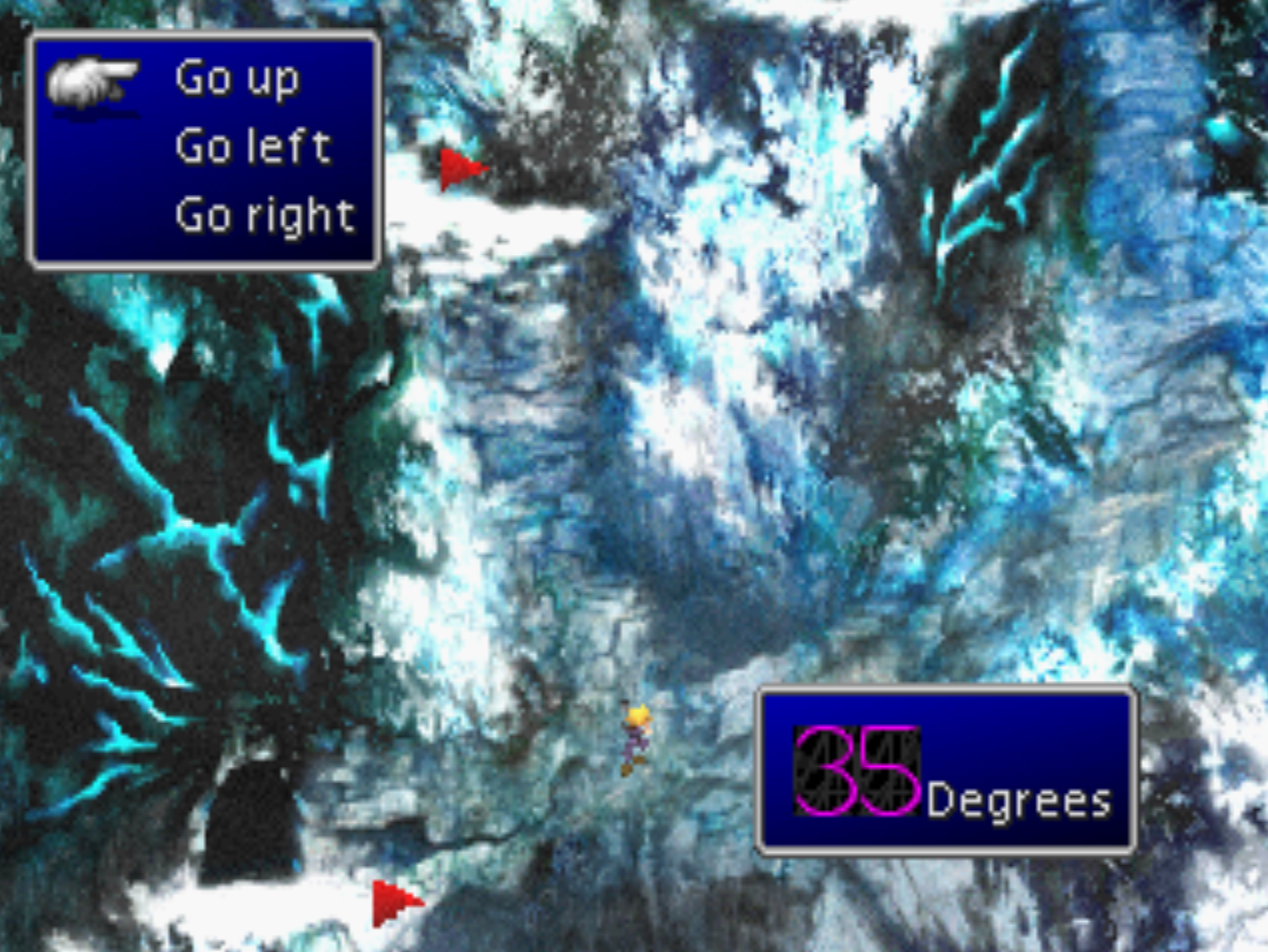 Go Up both times you're prompted.
In the room at the top you'll find a save point and east of that will be a hallway with the boss encounter. Something worth noting for this boss, this is your only chance before the Northern Cave (final dungeon) to get the Protect Ring item.
**Important Steal Tip** Protect Ring can be stolen from this boss, it's an accessory which will automatically give you Barrier + MBarrier at the start of a fight.
**Important** Once you leave Gaea's Cliff you can never return. Make sure you grab all the items and Enemy Skills prior to leaving here.
Continue to Whirlwind Maze & Junon Walkthrough
Return to The Great Glacier Walkthrough