RoS Tailoring Tradeskill Suppliers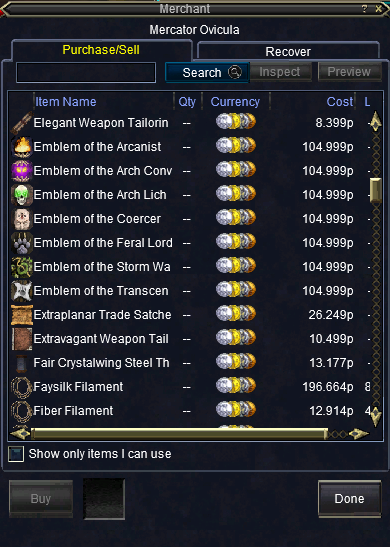 Some of the tradeskill reagents used in Ring of Scale Tailoring recipes are only sold from a handful of Tailoring Suppliers in the game. Tailor Kujen and Higwyn Matrick sell the items in Plane of Knowledge and are easily found on Find, however outside of PoK you can only buy these ingredients in The Overthere (RoS) and Stratos (Burning Lands).
Tailoring isn't the only tradeskill like this, almost every tradeskill that got new recipes in Ring of Scale have unique items which can only be purchased from a few NPCs. This page is here to show you the locations of each NPC to hopefully make them easier to find.
- - - - - - - - - - - - - - - - - - - - - - - - - - - - - - - - - - - - - - - - - - - - - - - -
PoK Tailoring Merchants - Plane of Knowledge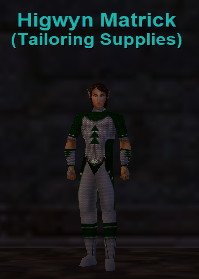 There are three 'Matrick' NPCs all of which hang out at the Tailoring Tradeskill hut between The Bazaar and The Guild Lobby. If Planes of Power is out on your server I very strongly recommend that you use these NPCs versus any in a race's hometown.
Additionally, Tailor Kujen is the oddball out in this list, he's the southern mark on my map below (nearby the small bank in PoK) and is one of the NPCs that was added during the CoTF expansion pack.
- - - - - - - - - - - - - - - - - - - - - - - - - - - - - - - - - - - - - - - - - - - - - - - -
Mercator Ovicula - The Overthere