Succulent Flesh Farming Locations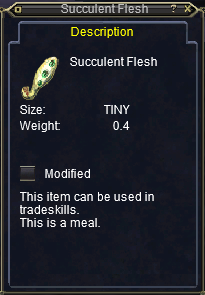 Succulent Flesh is one of the primary Baking ingredients that was added during the Ring of Scale expansion pack. It's used in making Succulent Pie and Succulent Steak. The pie recipe is one of the many different recipes you can learn to reach 350 Baking but the Succulent Steak recipe is a subcombine in creating some of the best stat food in the game - Kunark Meat Pie!
If you would like to learn more about Kunark Meat Pie and how to make it - head over to my Kunark Meat Pie Recipe Walkthrough for more information!

The Overthere Succulent Flesh Farming Locations.