Conflagrant Diamond Tradeskill Recipes for 300 - 350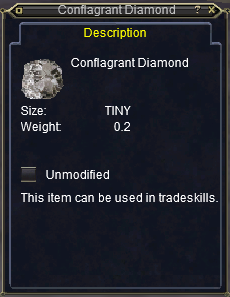 Conflagrant Diamonds are one of the many Tradeskill items which were added into the game during the Ring of Scale expansion pack. These gems drop from Sarnak enemies throughout EoK and RoS and they are primarily used in the Jewelcrafting and Research Tradeskills.
The best place for you to farm Conflagrant Diamonds would be any zone with Sarnaks, Gorowyn being the zone with the most of them. Many of the Jewelcrafting items that you can make with Conflagrant Diamonds are used in other Tradeskill recipes, such as Jewelry and weapons. The Research combines are used to make a pretty nice set of Prestige augs.
Jewelcrafting Conflagrant Diamond Recipes (8 Recipes)
Half-moon Cut Conflagrant Diamond
Marquise Cut Conflagrant Diamond
Square Cut Conflagrant Diamond
Trillion Cut Conflagrant Diamond