Essence of Alaris Tradeskill Recipes for 300 - 350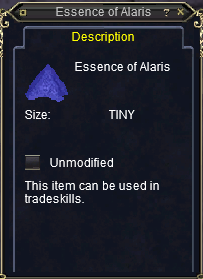 Essence of Alaris is one of the main Tradeskill ingredients that was added in during the Veil of Alaris expansion pack. This item has a small chance (roughly 5 - 10%) of dropping off almost any enemy you defeat in a VoA zone. From my personal experience I have found that it more commonly drops from humanoid enemies though rather than animals/undead.
Those of you looking to farm Al-Metes will find a pretty good location in Argath just below the town at the top of the zone. You can also farm Valley of Lunanyn up north in the Tier 1 area; the enemies here are quite easy and Beasts' Domain/Sarith City of Tides.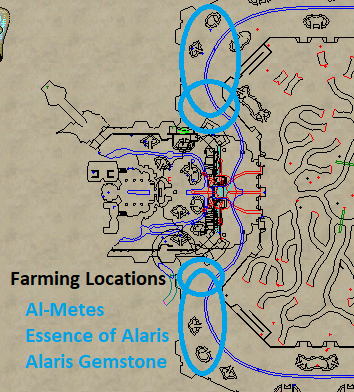 Alchemy Essence of Alaris Recipes (43 Recipes)
Basic Suspension of Pestilence XVI
Distillate of Comprehension XVI
Distillate of Immunization XVI
Distillate of Regeneration XVI
Formed Suspension of Flame XVI
Formed Suspension of Frost XVI
Formed Suspension of Pestilence XVI
Formed Suspension of Slime XVI
Formed Suspension of Toxin XVI
Shaped Suspension of Flame XVI
Shaped Suspension of Frost XVI
Shaped Suspension of Pestilence XVI
Shaped Suspension of Slime XVI
Shaped Suspension of Toxin XVI
Tonic of Resonant Elemental XVI
Worked Suspension of Flame XVI
Worked Suspension of Frost XVI
Worked Suspension of Pestilence XVI
Worked Suspension of Slime XVI
Worked Suspension of Toxin XVI
Brewing Essence of Alaris Recipes (9 Recipes)
Fletching Essence of Alaris Recipes (2 Recipes)
Jewelcrafting Essence of Alaris Recipes (19 Recipes)
Compartmented Alaran Metal Trio Bracelet
Compartmented Alaran Metal Trio Earring
Compartmented Alaran Metal Trio Pendant
Compartmented Alaran Metal Trio Ring
Compartmented Alaran Metal Trio Veil
Pottery Essence of Alaris Recipes (26 Recipes)
Soloist Ascension Ceramic Clay
Unfired Aegis of Blackscales Ornament (Alaris Clay is a subcombine in this recipe)
Unfired Ancient Prismatic Brawl Stick Ornament (Alaris Clay is a subcombine in this recipe)
Unfired Black Handled Bonebreaker Ornament (Alaris Clay is a subcombine in this recipe)
Unfired Brightwood Spear Ornament (Alaris Clay is a subcombine in this recipe)
Unfired Darkblade of the Warlord Ornament (Alaris Clay is a subcombine in this recipe)
Unfired Glowing Black Stone Ornament (Alaris Clay is a subcombine in this recipe)
Unfired Great Axe of Twin Flames Ornament (Alaris Clay is a subcombine in this recipe)
Unfired Jagged Onyx Staff Ornament (Alaris Clay is a subcombine in this recipe)
Unfired Planar Scorched Bladed Mace Ornament (Alaris Clay is a subcombine in this recipe)
Unfired Planar Scorched Buckler Ornament (Alaris Clay is a subcombine in this recipe)
Unfired Planar Scorched Cat Claws Ornament (Alaris Clay is a subcombine in this recipe)
Unfired Planar Scorched Combat Staff Ornament (Alaris Clay is a subcombine in this recipe)
Unfired Planar Scorched Dueling Blade Ornament (Alaris Clay is a subcombine in this recipe)
Unfired Planar Scorched Flail Ornament (Alaris Clay is a subcombine in this recipe)
Unfired Planar Scorched Glaive Ornament (Alaris Clay is a subcombine in this recipe)
Unfired Planar Scorched Greatbow Ornament (Alaris Clay is a subcombine in this recipe)
Unfired Planar Scorched Ranseur Ornament (Alaris Clay is a subcombine in this recipe)
Unfired Sarnak Battle Shield Ornament (Alaris Clay is a subcombine in this recipe)
Unfired Short Sword of the Ykesha Ornament (Alaris Clay is a subcombine in this recipe)
Unfired Sister's Opulent Backstabber Ornament (Alaris Clay is a subcombine in this recipe)
Unfired Staff of Transcendence Ornament (Alaris Clay is a subcombine in this recipe)
Unfired The Sword of Ssraeshza Ornament (Alaris Clay is a subcombine in this recipe)
Unfired Transient Bow of Solar Winds Ornament (Alaris Clay is a subcombine in this recipe)
Unfired Vyledorinajirnak Ornament (Alaris Clay is a subcombine in this recipe)
Unfired Wurmslayer Ornament (Alaris Clay is a subcombine in this recipe)
Aegis of Blackscales Ornament
Ancient Prismatic Brawl Stick Ornament
Black Handled Bonebreaker Ornament
Brightwood Spear Ornament
Darkblade of the Warlord Ornament
Glowing Black Stone Ornament
Great Axe of Twin Flames Ornament
Jagged Onyx Staff Ornament
Planar Scorched Bladed Mace Ornament
Planar Scorched Buckler Ornament
Planar Scorched Cat Claws Ornament
Planar Scorched Combat Staff Ornament
Planar Scorched Dueling Blade Ornament
Planar Scorched Flail Ornament
Planar Scorched Glaive Ornament
Planar Scorched Greatbow Ornament
Planar Scorched Ranseur Ornament
Sarnak Battle Shield Ornament
Short Sword of the Ykesha Ornament
Sister's Opulent Backstabber Ornament
Staff of Transcendence Ornament
The Sword of Ssraeshza Ornament
Transient Bow of Solar Winds Ornament
Vyledorinajirnak Ornament
Wurmslayer Ornament
Research Essence of Alaris Recipes (2 Recipes)
Ability: Mass Enchant Alaran Metal
Tailoring Essence of Alaris Recipes (3 Recipes)
Glorious Infused Lined Sap Gloves
Glorious Infused Studded Cudgel
Glorious Infused Studded Leather Whip
Tinkering Essence of Alaris Recipes (5 Recipes)
Alaran Throwing Blade Stamper (Requires Alaran Metal Bar JC subcombine)
Gnomish Handcannon (Requires Alaran Metal Bar JC subcombine)
Potion Maker Kit (Requires Alaran Metal Bar JC subcombine)