Tonlyei Lyhin GoD Tailoring Quests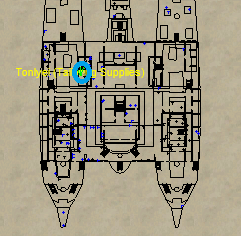 Tonlyei Lyhin is found inside of the building on the deck of the ship that's surrounded by the same NPCs that sell Tradeskill Books. If you're still confused about the location just use my map above for further clarification.
If you're unfamiliar with these GoD Tradeskill quests they're really easy. Basically all you need to do is hail the NPC and follow through with her dialogue and craft 100 of each item that she tells you to craft. The first item on the list is 'Simple Belt'.

Inside the same room as Tonlyei Lyhin you'll find a Loom, it's up against the wall and super big - impossible to miss. This is what we'll be using for each combine. If you're using EQtraders at the same time for this quest do note that you don't have to turn items in one by one anymore... You can hand Tonlyei full stacks.


After crafting 100 Simple Belts you'll want to craft 100 Simple Socks. Then once you turn in 100 Simple Socks to Tonlyei you'll be told to craft some Simple Pants - which is just as straight forward as the others. Luckily all these items, much like the Smithing Quests, all start with 'Simple' it makes finding them in the tradeskill window much easier to remember.

Finally the last things we're going to be crafting for Tonlyei is Simple Shirts. Craft 100 and after you're done turning them all in don't forget to hail Tonlyei and say 'recipes' for our real reward!

Return to GoD Abysmal Sea Tradeskill Quest Index Page