Lizardscale Plated Girdle (Cragbeast Queen)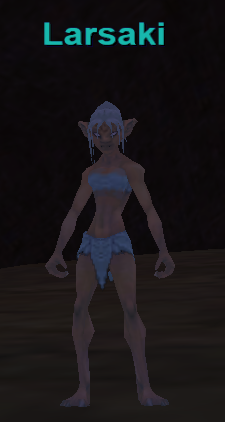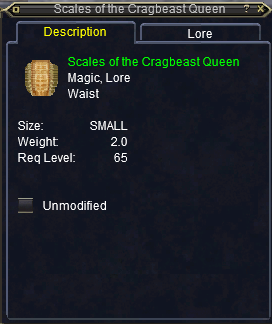 The first part of this quest is arguably the most pain in the butt. You need to hang around in Natimbi until the Cragbeast Queen spawns and defeat her for the Scale of the Cragbeast Queen. Once you have this item in your inventory, hail Larsaki to begin the actual quest.
Larsaki will give you Larsaki's Empty Box and tell you to collect 3 Polished Stonemight Shells and 2 Untained Spectral Essences. The Polished Stonemight Shells drop from stonemites in Vxed and Tipt and the Untainted Spectral Essence drops from spirits and misguided beludu corpse in one part of Vxed.
Vxed is a zone that can only be accessed by speaking with Apprentice Udranda in Barindu and accepting the Expedition she gives. For more information on how to reach Vxed head on over to my How To Get To Vxed Guide. You will have a total of 6 hours once you accept the expedition which is more than enough to get the items we need.
You will find stonemights throughout basically all of Vxed and Tipt. The Polished Stonemight Shells you need to collect are rare drops from these enemies. As for the Untainted Spectral Essence... This only drops from ghost/spirit enemies which are found in the northeastern most portion of the zone marked on my map above.
If you would like more information about the zone of Vxed as a whole I recommend you head on over to my Vxed, The Crumbling Caverns Leveling Guide. That goes into a lot of detail about what you should expect from this zone.
Once you've acquired all of the items you need, place them into Larsaki's Empty Box along with the Scales of the Cragbeast Queen and hit combine to create Larsaki's Box of Raw Materials. Hand this item to Larsaki to complete the quest.