Eastern Wastes - Velious Leveling Guide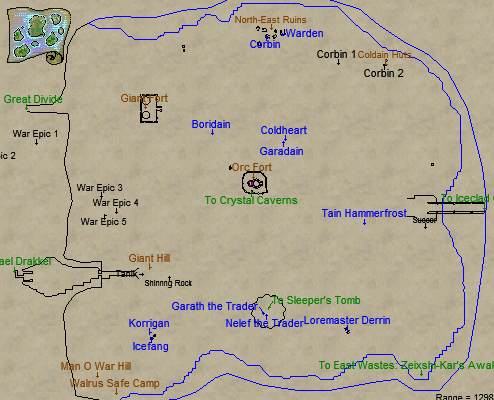 The Eastern Wastes is a massive zone added in Velious with only a few semi decent hunting locations. The most common camps you'll see people at in this zone are the Orc Fort in the center part of the zone as well as the massive Giant Fort up nearby the Great Divide zoneline.
The Orc Fort is good for players 35 - 40. Technically you could come here 30 - 35 too but some of the orcs have a rather high level spread and will con yellow or even red to you. A group with small numbers could safely hunt here if they're all above 35.
All of the Orcs at the Orc Fort have a chance to drop the following items Ry`Gorr Chain Bracer, Ry`Gorr Chain Collar, Ry`Gorr Chain Coif, Ry`Gorr Chain Gloves, Ry`Gorr Chain Leggings, Ry`Gorr Iron Armguards. You'll find the following named enemies at the Orc Fort in the center of the zone:
Chief Ry`Gorr: Ry`Gorr Battle Mail, Spine Chill Spear
Oracle of Ry`Gorr: Cloak of the Ry`Gorr Oracles, Orc Fang Necklace
Firbrand the Black: Gauntlets of the Black, Dark Ember
The last thing worth mentioning about the Orcs is in the back of their fortress is where you'll find the zone in for Crystal Caverns. The giant fort is about the same level as the Orcs and it doesn't have any named enemies like the orc fort does.
Aside from the two places I just mentioned it's mostly all field killing in Eastern Wastes. A lot of the enemies in this zone that roam around the open field drop unique Tradeskill components which are used in the Coldain Shawl quests.
Additional Zone Information
- Players can reach Eastern Wastes a multitude of ways. Great Divide is the most common way here since both Wizards and Druids can port there in addition to the PoK book there. You can also enter EW through Iceclad Ocean or even from Kael Drakkel.
- Eastern Wastes was rescaled to level 95 during the Rain of Fear Expansion. You can reach the RoF version of the zone through the crystal in the south of this zone.
- This is one of the only locations in the game for players to farm Mammoth Meat.
Eastern Wastes Allakhazam Zone Information
Eastern Wastes P99 Zone Information