Hollowshade Moor - Luclin Leveling Guide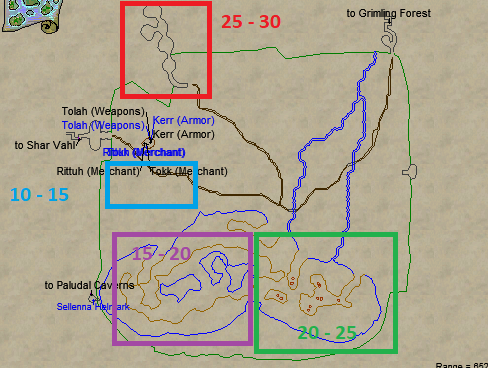 Hollowshade Moor.... another massive zone in Luclin with a giant level spread. Luckily though this zone is a lot easier to explain level-by-level than most of the other zones added in Luclin. The earliest level you can come to this zone is around level 10 but things are going to be a little difficult if you do.
Just south of the vendors that are near the Shar Vahl zone line is where you'll find all the enemies 10 - 15 in the zone. There aren't many of them so you'll have pretty slim pickings. Luckily once you hit level 15 things start to get better. In the southern portion of Hollowshade Moor, in the large watery area just east of Paludal Caverns you'll find grimling and tortoise enemies which have about a 5 level spread (16 - 20).
Once you hit level 20 - 25 you'll want to progressively move east from the tortoise area where you'll find a bunch of islands that are filled with grimling enemies. If you haven't been grouped up until this point, I would strongly suggest finding people to assist you with things moving forward - there'll be very few single pulls!!
Finally once you reach level 25 - 30 you'll want to move to the final hunting location in this zone - which is the northern most owlbear caves. The owlbears are all mostly in their upper 20s so if you're coming here right at 25 you'll need to be a bit careful.
Luckily though you can pull just about every owlbear in the northern cave single which makes this a pretty decent location to hunt, all things considered. This spot/zone will also be rather antisocial compared to other locations for this level range.
Additional Information
- You can reach Hollowshade Moor a multitude of ways. Through Shar Vahl or Paludal Caverns are two of the most common ways while getting a portal to Grimling Forest and coming in from there is another.
Hollowshade Moor Allakhazam Zone Information