Mines of Nurga - Kunark Leveling Guide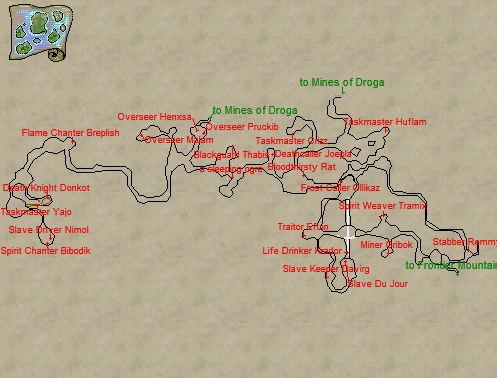 The Mines of Nurga is an indoor zone that's just off of Frontier Mountains with a bit of confusion surrounding it. This generally makes it not as well traveled as the other zones. During the Kunark - TSS (or sometime around then) this zone is for players 30 - 45. You can find the Allakhazam Entry for this version of Nurga by following the link.
Eventually though The Mines of Nurga gets revamped into a higher level version of itself which is for players 40 - 55 and also it has a bunch of different nameds in the zone, which you can see on my map above. You can find more information about that version of The Mines of Nurga here. Keep in mind that's NOT the one we'll see on the TLPs.
Additional Zone Information
- This zone gets revamped a few expansions in the future (I think around the TSS era)
- Monks complete a part of their Epic 1.0 in this zone, Trunt is the NPC they need to spawn/kill
Mines of Nurga Allakhazam Zone Information
Mines of Nurga P99 Zone Information