Unrest - Classic Leveling Guide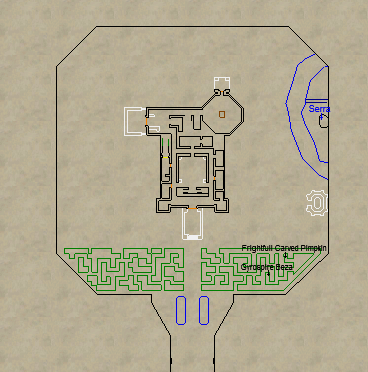 The map above showcases the entire first floor of Unrest. This location is best for players that are levels 10 - 17. You can make decent camp locations around the walls of Unrest or nearby the Gazebo. There are usually enough enemies in the Courtyard to kill but if there's too many groups you may have to pull out of the Mansion in the center of the zone.
Once you get into you late teens it'll be time to move into the Mansion of Unrest. You can go either up a floor or through the bookcase and down a floor to find mobs which are higher level. Be careful though, things can get out of hand rather quick inside the Mansion with pathing if you aren't careful!
Upstairs 22 - 28 the best camp location you can get is the Fireplace aka FP. There's a named up here, reclusive ghoul magus, that drops Savant's Cap as well as Dusty Bloodstained Gloves. The Cap is a decent head slot item for all casters while the gloves are only for INT casters.
Higher level players that are still in Unrest (28 - 34) will find the best location to hunt in the Mansion's Basement. Here you'll find a few different nameds, an undead knight of Unrest which drops Bloodstained Mantle and Bloodstained Tunic. There's another named down here, Garanel Rucksif which drops Jagged Band and well as Dwarven Work Boots.
Additional Zone Information
- Unrest only has a single zone connection which is to Dagnor's Cauldron. That zone is connected to Butcherblock Mountains.
- The Estate of Unrest gets revamped and will be unavailable for lower level players during Hardcore Heritage which occurs during the spring/summer months. (Wont happen on TLPs until HoT or some later expansion pack)
Unrest Allakhazam Zone Information