South Ro - Classic Leveling Guide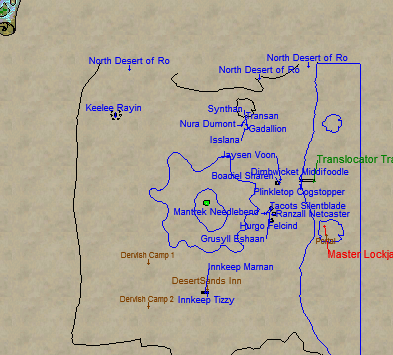 The Dervish enemies at Dervish Camp locations throughout this zone provide the best hunting grounds for anyone 8 - 14 who is just starting in this zone. Once they start getting too low level for you I'd recommend moving to the crocodiles, mentioned below.
In the north eastern portion of the map above you'll find a bunch of crocodiles to kill, they're basically all over the beaches. These enemies are a great hunting location for players 14 - 19 and can even be solo'd if you're well enough geared. There's one named that patrols this area too, Lockjaw.
Additionally for players much higher level, you'll find spectres and water goblins at the lighthouse in the center of the northern portion of this zone. The spectres and goblins are levels 33 - 37 so you'll basically have to come back to this zone for this one camp if you'd like to hunt here. The spectres are great for solo players or small groups but the goblins in the water will be a challenge for lower numbers.
On the map above the Dervish camps are good for players 8 - 14, as aforementioned. In addition to the dervish camps you have orcs and other enemies that roam these areas. There's much better hunting in the northern portion of South Ro so I recommend you just go up there.
The one unique part about South-South Ro is you're more likely to find Sand Giants in this area. As you can see even in the northwestern portion of my map above, there's even a little bit of a Sand Giant camp for you to hunt at!
Additional Zone Information
- There are multiple ways for you to reach South Ro, the two most common are through Innothule Swamp (troll noobie zone) and North Ro. South Ro is also connected to Timorous Deep, which can be accessed through the Translocator on the Docks.
South Ro Zone Allakhazam Zone Information
South Ro P99 Zone Information (will be out of date for TLPs)