Classic Leveling Guide - Misty Thicket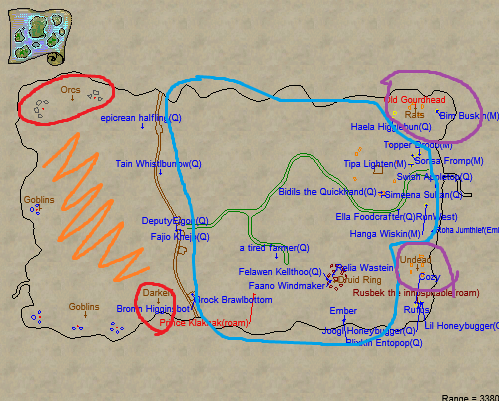 If you're an unfriendly race to the Halflings but you'd still like to use Misty Thicket as your starting zone since it's the best noob zone ever created... There's some hope! First, you'll want to avoid getting near any paths as Ella Foodcrafter and Blixin Entopop generally patrol the paths/close to them.
The northern portion of the zone is the safest area you can hunt in 1 - 5. You can hang around killing noob yard trash for quite awhile. In order to get on the other side of the wall you'll want to climb up one of the guard towers and jump over the wall to avoid the guards. Once you're on the western side of the wall closer to Runnyeye it's very uncommon to find any guards all the way out here unless someone's trained them.
Blue Area - All the noobie yard trash can be found here and the mobs are levels 1 - 5
Purple Circles - These are ruins which have clusters of rats and undead good for levels 5 - 10
Orange Area - This is the opposite side of the wall with mobs ranging from levels 5 -15
Red Circles - The northern circle is an Orc camp and the southern red circle is a camp of Dark Elves good for players 9 - 15
Additional Zone Information
- If you need to raise your reputation with the Halflings because you tanked it for some reason or another there's a fantastic quest to do that only requires Bandages! The quest is called Bandages for Honeybugger and it'll max your faction with the Halflings extremely quickly. If they con KoS to you - stand outside the building and try sneaking before opening trade with them.
- If you're not a Halfling and you can't find a port to Misty Thicket - getting here can be quite a pain in the butt! Misty Thicket is connected to Runnyeye as well as Rivervale which is directly connected to Kithicor Woods. Generally the #1 way all people reach Misty Thicket is by traveling through Commonlands and through Kithicor Woods, avoiding the deadly undead. The Runnyeye route requires you to go through almost all the Karanas to reach Misty Thicket.
- Misty Thicket is one of the best places early on in the game to farm Spiderling Silk. It's also a good location to farm Thick Grizzly Bear Skin & High Quality Bear Skin.
Misty Thicket Allakhazam Zone Information
Misty Thicket P99 Zone Information (Will be out of date for some things)