Gates of Kor-Sha - EoK Leveling Guide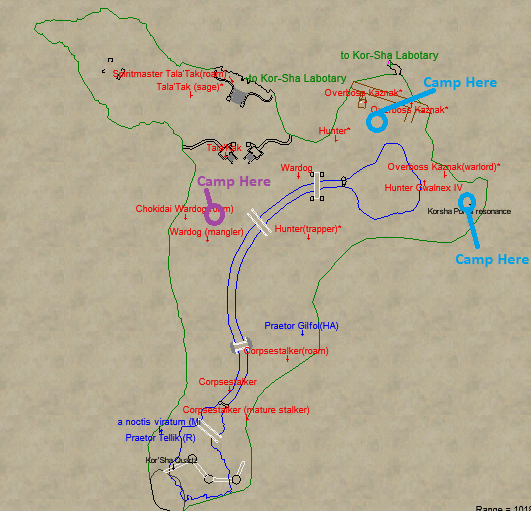 There are two camps in the Gates of Kor-sha that I recommend, the first one is nearby the Chokidai Wardog named location. This is the easier of the two camps since the majority of the enemies here are lower level and they don't attack you on sight. If you have good faction with the EoK sarnak (Empire of Di`zok) then even the Chokidai here won't attack you!
You'll be fighting the snakes, chokidai and any nearby sarnak enemies that you can pull. If you've got a good enough group you may even be able to pull from the tower to the north which has Spiritmaster Tala`Tak inside. Alternatively, you could pull from across the stream instead of to the north and try to spawn Hunter Gwalnex VI.
Western Camp:
Chokidai Wardog: Chokidai Scale Cloak, Amorphous Armor
Spiritmaster Tala`Tak: Spectre's Choke, Totemic Mace, Amorphous Armor
The other camp I recommend in this zone is in the eastern portion of the zone. You'll find two named enemies over here, Overboss Kaznak and Hunter Gwalnex IV as well as a bunch of sarnak enemies. There's some animals too but not as many as the other location.
Depending on where you want to camp, I have chosen two different locations - I prefer the one that's the furthest southeast as no enemies roam into you at that spot and it's easy pulling back to camp. The other location near the bridge can be more annoying to pull (since you have to run up/down the bridge to get some enemies) but there's more monsters in this area for you.
Eastern Camp:
Overboss Kaznak: Kaznak's Bulwark Emblem, Amorphous Armor
Hunter Gwalnex IV: Korshan Buckler, Amorphous Armor
Keep an eye out for Korshan Sarnak Scales which drop from the sarnak enemies in Gates of Kor-Sha. These are used in the final Partisan quest of EoK, Methods of Sarnak Destruction. You'll be able to sell these items in The Bazaar to people who are too lazy to farm for them theirselves. Or, you can use them in your own partisan quest!
Additional Information
Pickzone Threshold: 20 Players
- You can reach Kor-Sha Laboratory by taking the Guild Hall to Lceanium or The Overthere and then running through a few zones to get there. For more information on reaching this zone check out my How to get to Kor-Sha Laboratory Guide.
- There is one set of collectibles that you can find in this zone belonging to the Sathir's Court Achievement.
- Praetor Gilfol in Gates of Kor-Sha zone gives you two quests, Mysteries of Kor-Sha and Infiltration of Kor-Sha. Both of these are Heroic Adventures that take place in Kor-Sha Laboratory. In addition to giving you Sathir Trade Gems, both of these Heroic Adventures share a unique set of Collectibles that are worth quite a bit depending on your server.
- There are rare items unique to Empires of Kunark and Ring of Scale zones called chase items. For an Advloot list of all these chase items that you can use on your own characters head over to my EoK Advloot Chase Item List page and copy and paste it into your own LF_AN file. More info about how to do that is found on this page.
Gates of Kor-Sha Allakhazam Zone Information
Gates of Kor-Sha EQResource Zone Information