Gnomework Adaptive Plating Farming Locations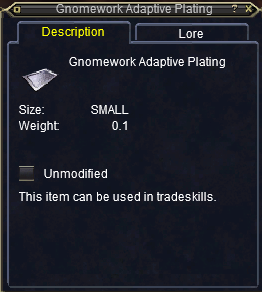 Gnomework Adaptive Plating was added into the game for Everquest's 20th Anniversary celebration with the zone Gnome Memorial Mountain. Everquest's 20th Anniversary took place during the era where The Burning Lands expansion pack was the most recent expansion to the game.
This item drops fairly commonly from the gnome/clockwork enemies throughout the northern half of this zone, the orcs down south do not drop this item. Gnomework Adaptive Plating is used in both Smithing and Tailoring to make armor ornaments for Plate, Chain, Leather and Cloth.
Every recipe that you learn from Gnomework Adaptive Plating counts towards 350 Tailoring or Smithing, whichever of the two skills you're doing combines with. You can combine the Gnomework Adaptive Plating into four different subcombine items which are listed below.
Gnomework Adaptive Leather Studs
Gnomework Adaptive Steelsilk Swatch
Gnomework Adaptive Steel Plate
Gnomework Adaptive Steel Rings
- - - - - - - - - - - - - - - - - - - - - - - - - - - - - - - - - - - - - - - - - - - - - - - -