Velious Leveling Guide - Velketor's Labyrinth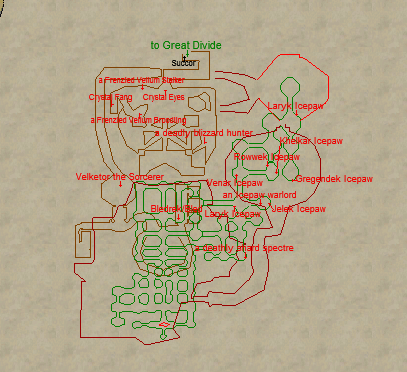 The entrance area of the zone has spiders, gargoyles and other lower level enemies good for those 35 - 45 (grouped of course).
Upper/lower kobolds: The kobolds are good for players 45 - 60 and it's strongly recommended that you bring a group to handle these guys. If you have a few higher levels with you; you won't need a full group. But you should have at least some help since the kobolds very commonly come in pairs or greater and they also have a tendancy to cast heals on one another and provide support.
Common drops include: Spider Fur Belt, Cloak and Collar - Crystalline Silk Belt and stuff like Book of Twilight, Robe of Melding Auras, Kobold Jester's Crown
Rare/more valuable drops include: Lute of the Howler, Black Ice Sleeves, Sword of Pain (Permanent clickable Grim Aura AA for Shadow Knights)
Additional Zone Information
- Velketor the Sorceror is a raid boss that's located in this zone
Pickzone Threshold: 30 Players
Velketor's Labyrinth Allakhazam Zone Information
Velketor's Labyrinth P99 Zone Information