Kunark Leveling Guide - Burning Woods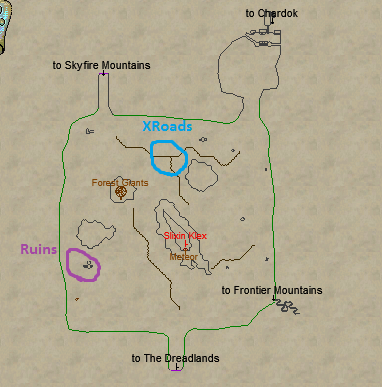 Xroads: This is a great camp location for those in their 40s and lower 50s. There are a ton of enemies that wander around this area - so many you'll barely have to pull! But be careful, it's easy to get overwhelmed!
Ruins: This is a less visited spot in Burning Woods but I usually enjoy it if I am boxing a small amount of characters because less mobs patrol over here and the ruins offer some easy pulls
Giant Fort: In the center area of the zone on the map you will see it says "Forest Giants" - this is also known as the Giant Fort. It's a fantastic location for those in their late 40s and early 50s.
Additional Zone Information
- The Sarnak fort up by Chardok is another good spot to level up at in your 40s. Be careful though if you zone into Chardok - the ZL is one way!
- This zone is revamped/updated in Empires of Kunark
Burning Woods Allakhazam Zone Information
Burning Woods P99 Zone Information