Classic Leveling Guide - Misty Thicket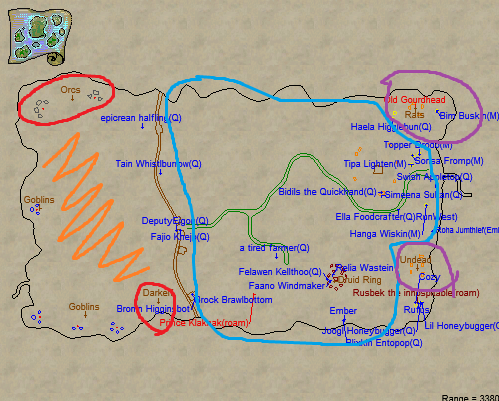 Blue Area - All the noobie yard trash can be found here and the mobs are levels 1 - 5
Purple Circles - These are ruins which have clusters of rats and undead good for levels 5 - 10
Orange Area - This is the opposite side of the wall with mobs ranging from levels 5 -15
Red Circles - The northern circle is an Orc camp and the southern red circle is a camp of Dark Elves good for players 9 - 15.
Additional Zone Information
- If you need to raise your reputation with the Halflings because you tanked it for some reason or another there's a fantastic quest to do that only requires Bandages! The quest is called Bandages for Honeybugger and it'll max your faction with the Halflings extremely quickly. If they con KoS to you - stand outside the building and try sneaking before opening trade with them.
Misty Thicket Allakhazam Zone Information
Misty Thicket P99 Zone Information (Will be out of date for some things)