Classic Leveling Guide - Castle Mistmoore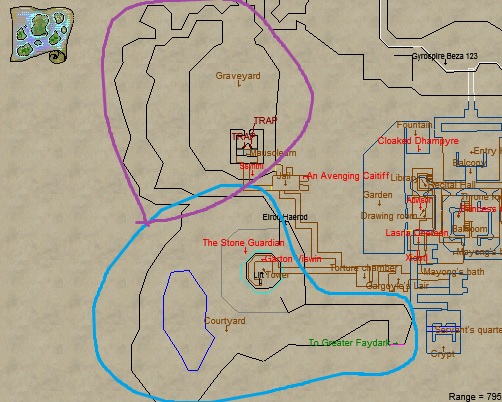 The lower light blue circle on my map above is great for players in their late teens and lower 20s. You'll still have to be careful since the enemies in this area run though.
Once you reach 20 - 25 (and you preferably aren't alone) you can move into the zone a bit further up to the northern most purple circle. The mobs in this area are a bit harder progressively getting tougher until you reach the Graveyard. Past the Graveyard it takes a really big level spike so be careful!
Additional Zone Information
- This zone gets revamped each year during Hardcore Heritage. It won't affect the TLP players until much... much later in the game.
Castle Mistmoore Allakhazam Zone Information
Castle Mistmoore P99 Zone Information