Skies of Arcadia Legends: Discovery Locations 41 - 50
This page covers the Discovery Locations 41 - 50 most of which take place in Mid Sky. The final few on this page take place in either Upper or Lower Sky which can only be accessed once you've fully upgraded your Delphinus and it is able to fly anywhere in the entire game.
Once you complete one of these discoveries don't forget to return to a Sailor's Guild and sell the Discovery Information you acquired to them. Depending on the discovery you made it usually will net you a decent amount of Gold.
If you wait too long though another Pirate will make the discovery which greatly devalues how much the Sailor's Guild will pay you when you make it.
41th Discovery Location - Dheerse
You'll find the Dheerse on the eastern end of the island that houses Yafutoma. If you're having trouble finding it start at the top of the Yafutoma area and work your way down the eastern edge. About half way down where it starts to turn back inward start mashing A and you'll discover the Dheerse.
42th Discovery Location - Grieving Prince
From Yafutoma travel to the southeast until you come across the stone reef. Ride along side of it heading south until you find yourself at a large forested island. The Grieving Prince Discovery Location is found in a clearing of the forest on that island.
43th Discovery Location - Spice Island
Spice Island is one of the more important Discovery Locations for you to find since it's part of the Abirik Cham 3 Side Quest. To reach this location what you'll want to do is position yourself atop Uguisu's Nest (Discovery Location #38) and travel directly north while hitting the A button.
When you reach the same location about that I am in the screen shots above you'll discover Spice Island. If you're still having trouble try to fly at exactly mid altitude as that's the altitude it shows the island in my screen shot above.
44th Discovery Location - Mystic Orchard
This island is a pretty tough one to find without any pictures. It's all the way down in the southwestern portion of the map out in the middle of no where. Instead of describing some super elaborate way on how to reach this location - just click on my pictures to increase their size and use them as a guide! This one's too tough to explain!!
45th Discovery Location - Inverse Isle
In order to reach the Inverse Isle Discovery Location you'll first want to travel to Ryu-kan's Island which is in the southeastern portion of the Mid Sky. The easiest way to get here is by traveling north from Yafutoma assuming you don't have a fully upgraded ship.
From Ryu-kan's Island you'll want to travel directly north until you reach the Inverse Isle. If you need additional help finding it use my screen shots for guidance.
46th Discovery Location - The World is Round
This discovery is automatically acquired the first time you return to Crescent Isle upon completion of Yafutoma. Don't ask why it didn't reward it to you immediately upon crossing the Stone reef. Vyse and crew seem to rely more on luck than logic.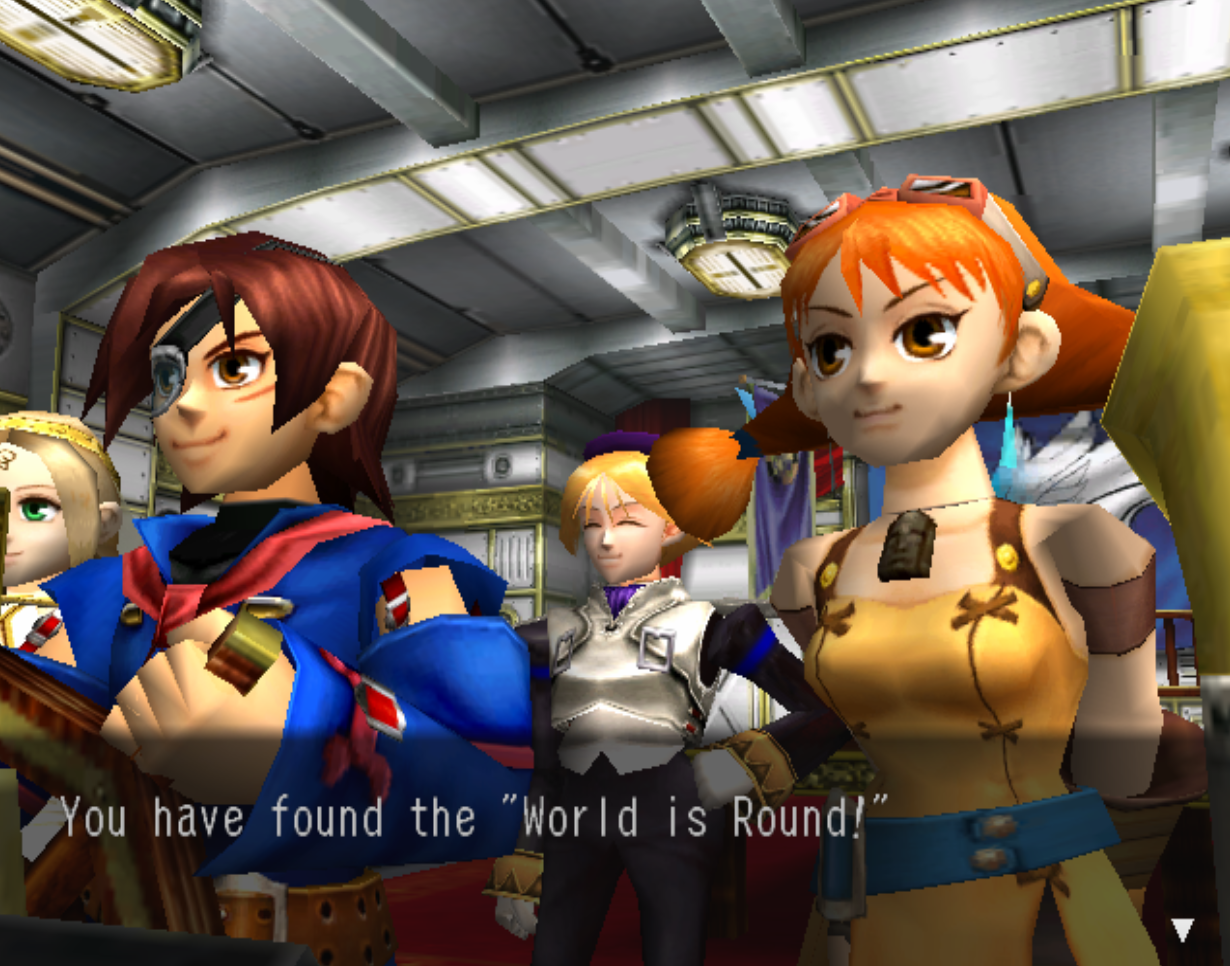 47th Discovery Location - Ruins of Rolana
From Nasrad you'll want to travel directly east until you reach the impassable rift. Then change course and begin traveling south along the grassy mountain line. Follow it through until it changes from grass back to stone and at that point is where you'll find the Ruins of Rolana.
48th Discovery Location - Southern Cross
The easiest way for you to find the Southern Cross Discovery Location is to head very slightly northwest from the Ice Ruins (Galacia) in Lower Sky. You'll eventually come across a small island with some crystals on it that looks like a cross. This is the Discovery.
49th Discovery Location - Rainbow Island
In order to find this Discovery Location you'll want to travel to Crescent Isle first and raise your altitude so that you're well into Upper Sky. Turn and face South East and you should see a beam of light coming down from the sky. Fly over to this and hit A once you're underneath of it to discover Rainbow Island.
50th Discovery Location - Moon Stone Lake
For this one head back to the very first island that you started the game on (Pirate Isle). Once here raise your altitude until you're well into Upper Sky, turn to the west and fly straight ahead! It'll only take you a few seconds before you come across a small little island with a waterfall on it. This is the Discovery Location!
Continue to Guide for Discovery Locations 51 - 60