Master Armorers - Velen & Skellige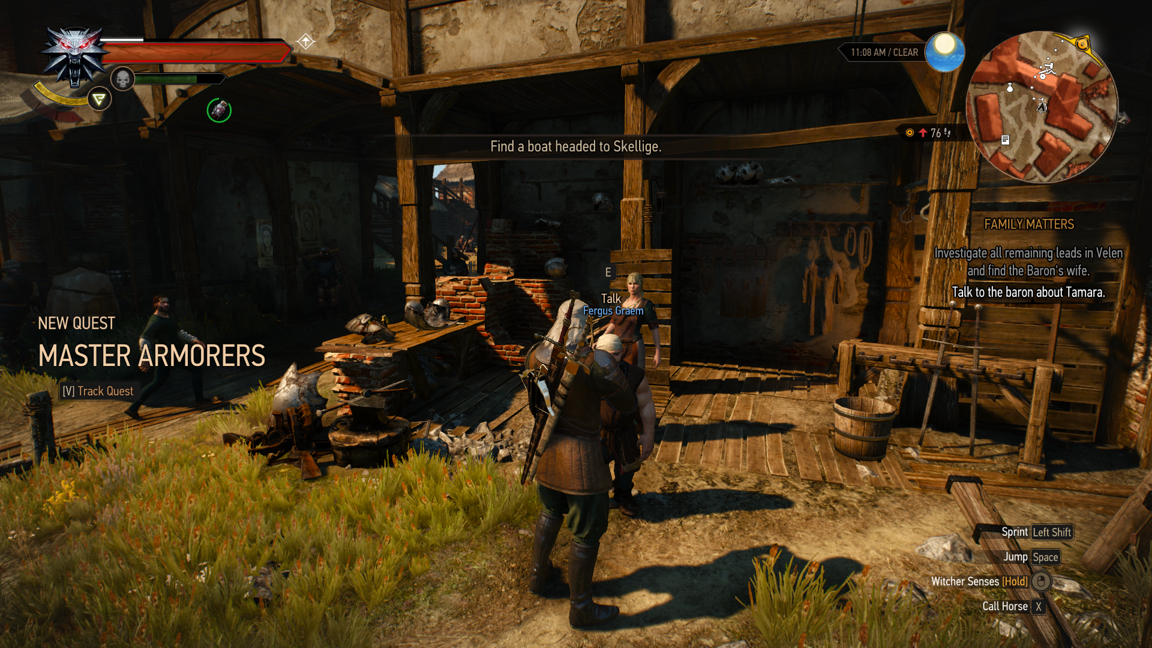 Area: Velen
Location: Crow's Perch
Quest Giver: Fergus Graem
Other Requirements: N/A
This quest is started at any point in time by Geralt asking Fergus Graem if he can craft master armor. Fergus is the armorer located in Crow's Perch (the same town you visit to speak with the Bloody Baron for his whole quest line).
For this quest you'll need to head on over to Skellige, there is an island in the southwestern portion of the map which is where we need to go. The area we're looking for is called Clan Tordarroch Forge and it's on the southern portion of the island; if you need help locating this place use my screen shot below.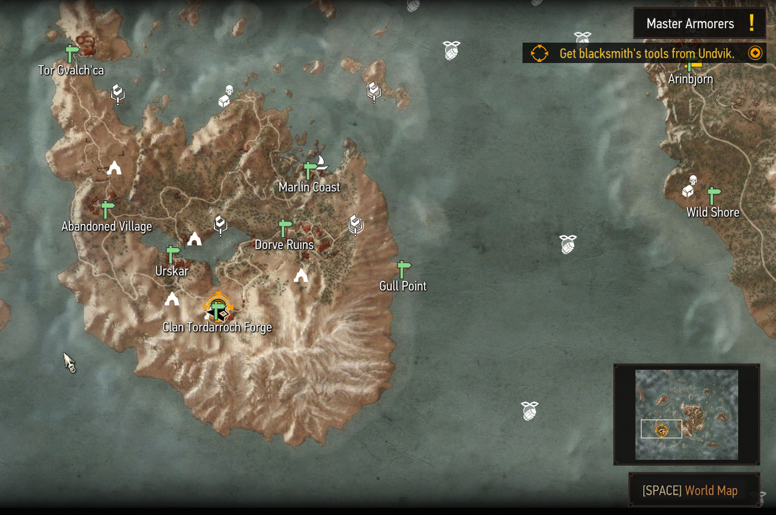 There are two cave entrances here, the one we're after is a very short/small cave with an Ice Troll in it. If you go into the very deep and long one with Harpies you've gone the wrong way. As shown in the screen shot below, you'll be battling an ice troll next to a hearth - the tools we're after are in a chest right next to that hearth which glows red with your Witcher Senses.
Ice Troll Weaknesses: Ogrid Oil, Quen
Speak with the armorer back in Crow's Perch once you've obtained the tools to update your quest. You'll now have to kill a griffin which is found north of Crow's Perch. Before leaving town it's recommended that you visit the Notice Board and grab the Contract: The Griffin from the Highlands side quest. Geralt mentions it while talking to the armorer, it's a contract quest for the very same enemy.
Travel north to the quest circle marked on your map and use your Witcher Senses to find a hand and some archgriffin foot prints. Follow them north and you will run straight into the Archgriffin's nest. If you need additional guidance, use the Contract quest link for more information.
For our quest, return to Crow's Perch and give the acid to Yoana to advance the quest. After a bit of dialogue she will ask you to wear the armor for her in a combat test. Declining fails the quest for you and you'll never be able to have her craft anything. So, obviously accept to test it for her and just stand there as the Nilfgaardian commander fires bolts at you.
Yoana will thank you for trusting her and tell you to come back in 24hrs to collect your armor. She's being very literal when she tells you 24hrs, sit there and meditate for 23hrs then once more for a few more hours to collect your armor and complete the quest.