Of Swords and Dumplings - Novigrad
Area: Novigrad
Location: Novigrad
Quest Giver: Hattori
Other Requirements: N/A
This quest begins by stumbling across Hattori's house in the southern portion of Novigrad. You'll find Hattori's house just a tad bit west of the Putrid Grove, an area you visit in Novigrad early on during the story. It's worth noting too, for one of the early objectives for this quest (when you go to the Novigrad Docks) you will typically stumble across the A Walk on the Waterfront Quest. Entering the quest area will trigger this quest and unless completed while you're in the area it will automatically fail.
Tip: If you are having trouble finding any of the quest locations, follow the white dots on your compass. They lead the way.
For the first part of this quest you will need to meet Hattori at the docks at some time during the night, typically 8PM or later. Hattori will ask you to follow him and meet up with someone by the name of Tinboy, you can Tinboy will have to negotiate for a price - you can go as low as 25% even though it seems like you can't. Tinboy will refuse to leave then come back and agree to your price.
After you agree to a price Cleaver's men will show up and attack you. Fight them off then flee from the scene with Hattori. There will be a few more developments after which you'll agree to find Hattori a bodyguard. Head over to The Golden Sturgeon and speak with Sukrus there, who is currently in a fight outside the bar. You'll be thrown into a fist fight with him immediately upon arriving, beat him up and there will be a scene with you two heading inside for a drink.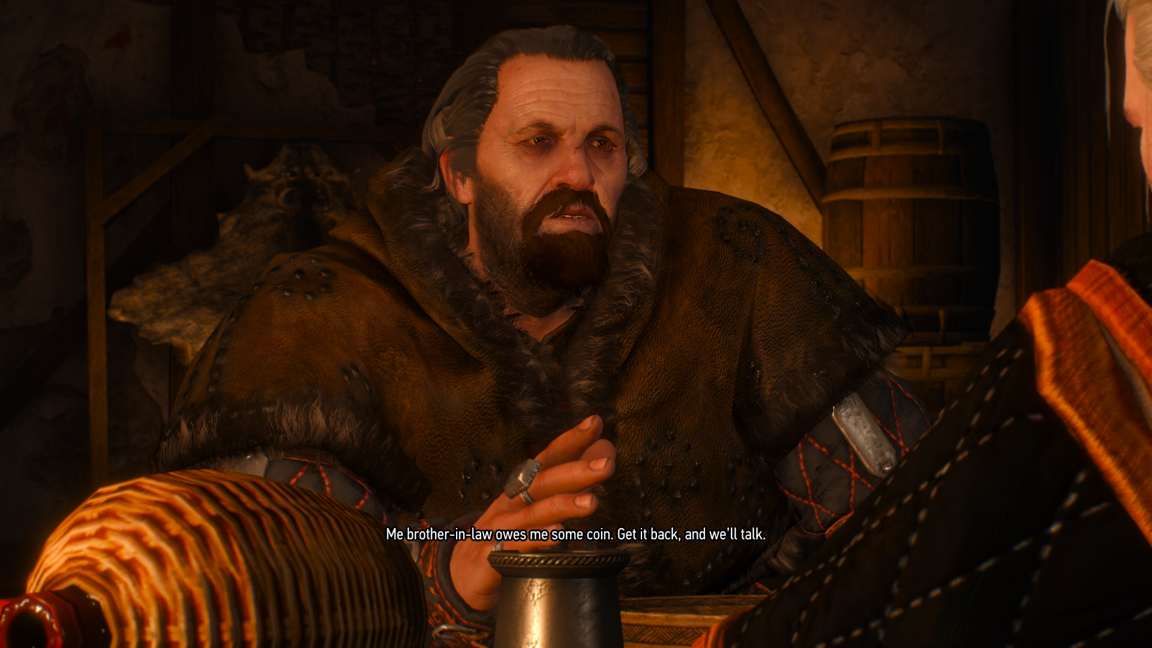 He'll ask you to speak to his brother-in-law on his behalf or destroy some of his brother-in-law's shit. Do whichever you please and when you're done return to Sukrus. Now that we're done here, return to Hattori for some more dialogue then talk to Sukrus again.
Sukrus will ask you to meet him outside a warehouse near the Golden Sturgeon after dark. Any time after 6pm you can arrive and speak to him here to begin the next part of the quest. He'll send you over to a warehouse where the dwarf will let you in if you pay him or use Axii on him.
Inside the warehouse use your Witcher Senses to find and mark the three crates for the quest. When you leave the warehouse you'll have to fight Ernst van Hoorn as well as a group of thugs he has brought with him. During this fight it's possible for your allies to die - or - if you get too far away you'll fail the quest.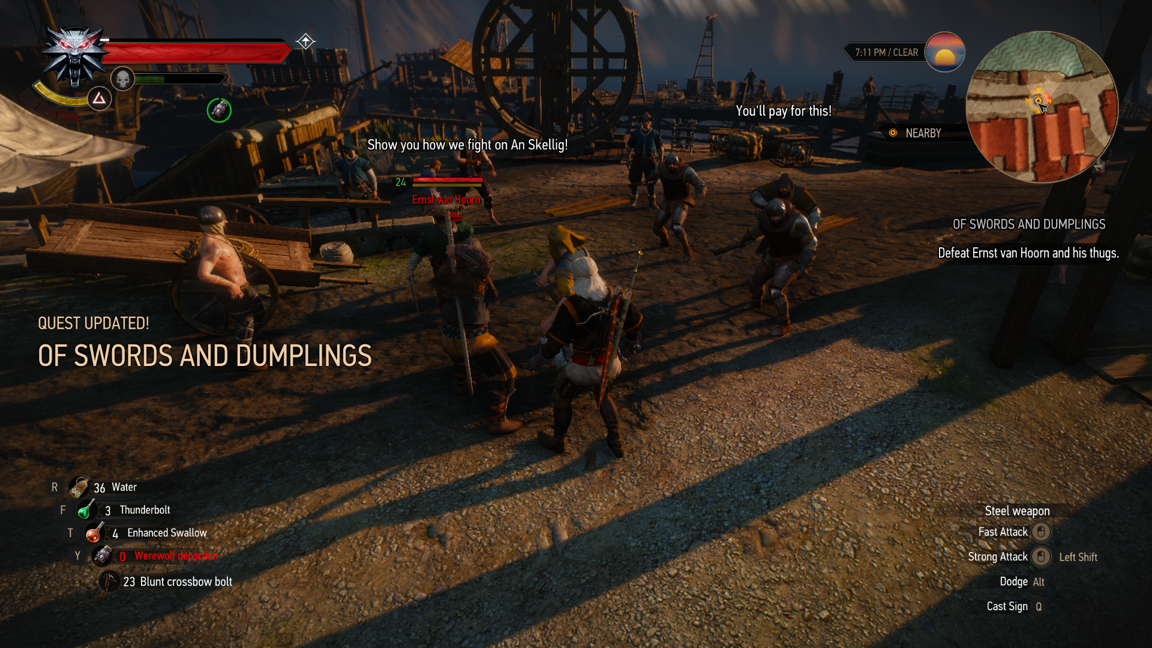 With the fight over return to Hattori and speak with him - all that's left is to wait a total of 6 hours (in-game) then speak with him again for your reward.