A Matter of Life and Death - Novigrad
Area: Novigrad
Location: Novigrad
Quest Giver: Triss Merigold
Other Requirements: Don't complete this quest until you've completed all of the quests that require Triss!
This quest becomes available after completing the A Poet Under Pressure Story Quest in Novigrad. If you plan to romance Triss in Witcher 3, this quest and the chain that follows is how you will do it. **Warning** It is recommended that you complete all other quests that involve Triss as this quest will change her location from Novigrad. The Nobleman's Statuette, The Soldier Statuette and Redania's Most Wanted should all be completed before this quest.
When you're ready to begin this quest speak with Triss at her house in Novigrad. She'll inform you that she got a letter from Lady Vegelbud and fears it may be a trap - you'll have to go investigate in her place. Head on over to the market (marked on your map) and speak with the man standing in the center of the quest marker (pictured below). If you use your Witcher Senses he'll have a glowing red key chain on his waist.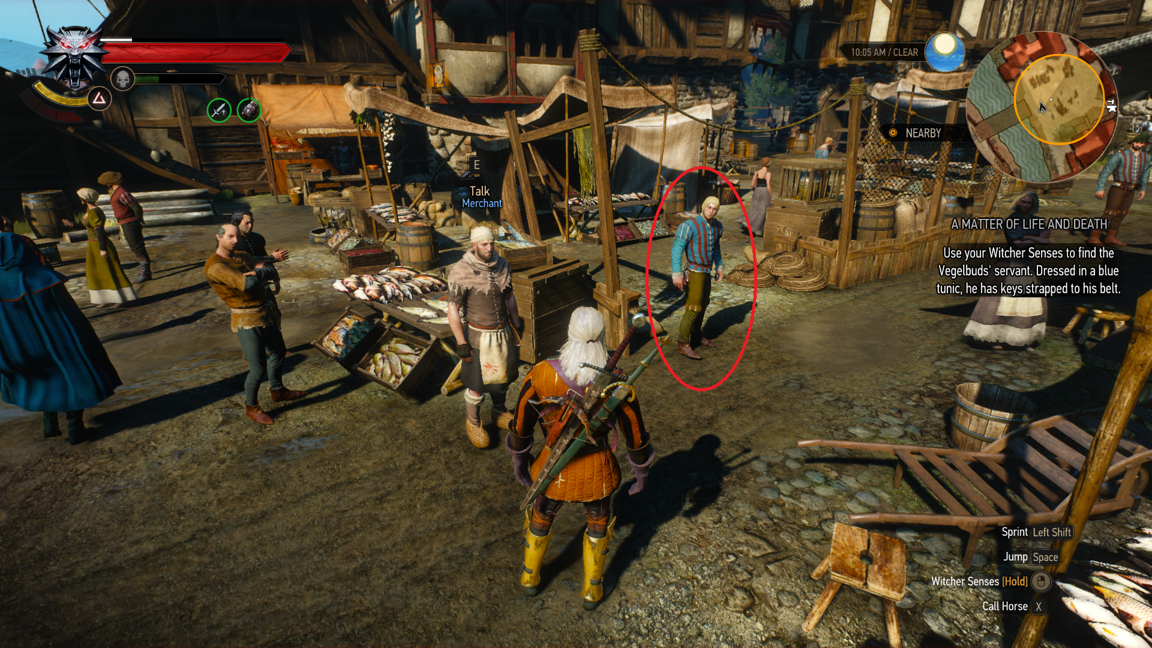 After speaking with him follow him a bit south of your current location and you'll be ambushed by three bandits. Make sure the guy that's with you doesn't get killed as that's game over. Upon defeating the bandits there will be some dialogue which Triss joins you during. During the dialogue the plan you come up with is to sneak Albert out of the Vegelbud's during the masquerade ball.
Triss will be really excited about this idea and ask you to collect fancy attire for the ball. There are multiple ways you can do this, you can go to Elihal's Shop which is marked on your map and purchase the fancy clothing as well as a fox mask for Triss and whatever one you want for yourself. Or you can collect the fancy clothing from Irina's house which you visited during The Play's The Thing Quest.
It's up to you which approach you want to take for this quest, if you're short on coin grab the clothes from Irina's house otherwise just buy them. While the quest says this part is optional, if you're trying to romance Triss it's highly recommended you show up looking spiffy to make her happy.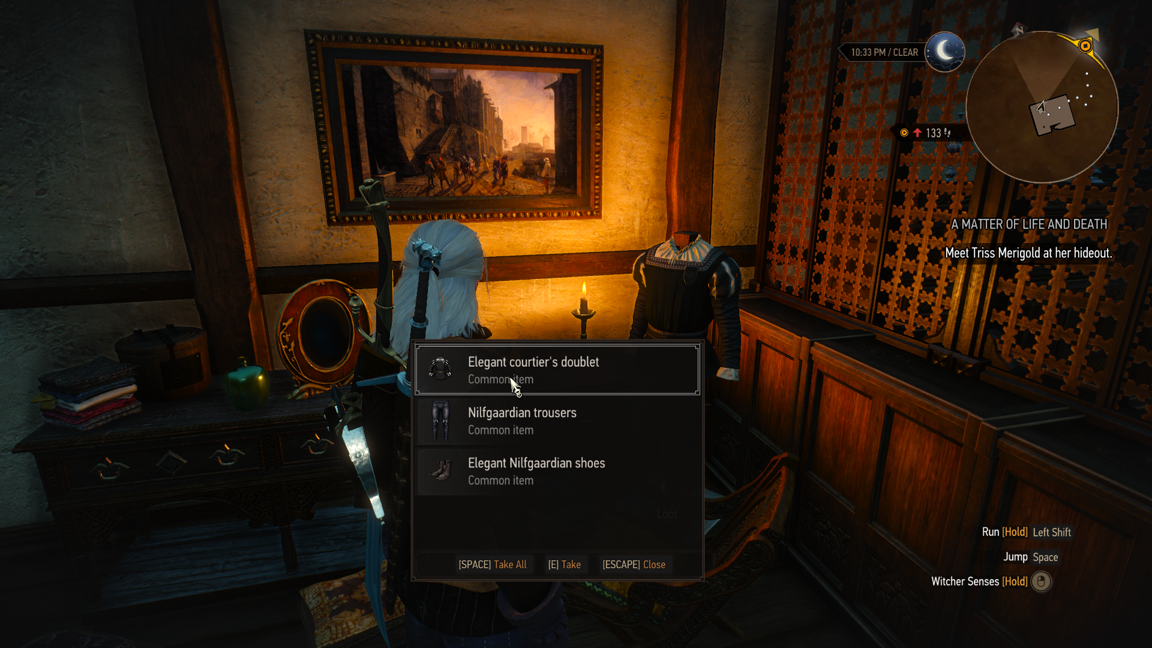 The fancy clothing in Irina's House.
When you're ready to proceed with the quest you'll have to head over to Triss' house, where she will be getting ready for the ball herself. Go through all of the dialogue until you arrive at the masquerade ball - don't worry about giving the guard your weapons, you won't be needing them.
Inside of the masquerade ball you'll have a few mini events before you're able to proceed with the main story. When you're ready to move forward with the story head through the gate in the eastern portion of the compound. On the other side of the gate you'll quickly notice an exclamation point on your compass - when you approach there will be another short scene after which you can interact with the Croupier.
Here are all of the Gwent Cards that you're able to win by playing the tournament here:
Key: Opponent - Card You Win
First Opponent - Milva
Second Opponent - Vampire: Bruxa
Third Opponent - Dandelion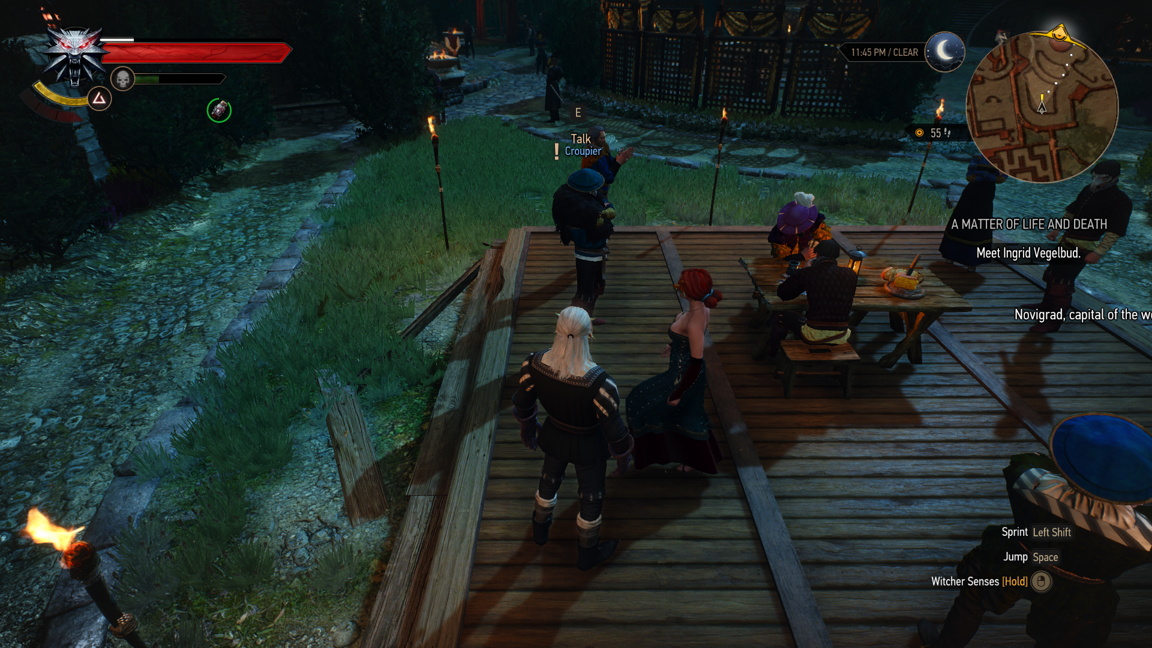 Once you're finished with the Gwent tournament head over to your quest marker where you will find Lady Vegelbud. Speak with her to advance the quest forward then you'll have to locate Albert. He is found in the southern most quest circle - go to the right of the stairs and you will find Albert by some of the bushes (pictured below).
Speak with him and fill him in on your plan after which you will follow Triss over to a bench. You'll have a conversation with her on the bench during which, if you want to romance her, you'll have to answer a certain way. Tell her she is charismatic and make sure to kiss her during the fireworks. You'll be interrupted and, after a few more scenes, will regain control of Geralt.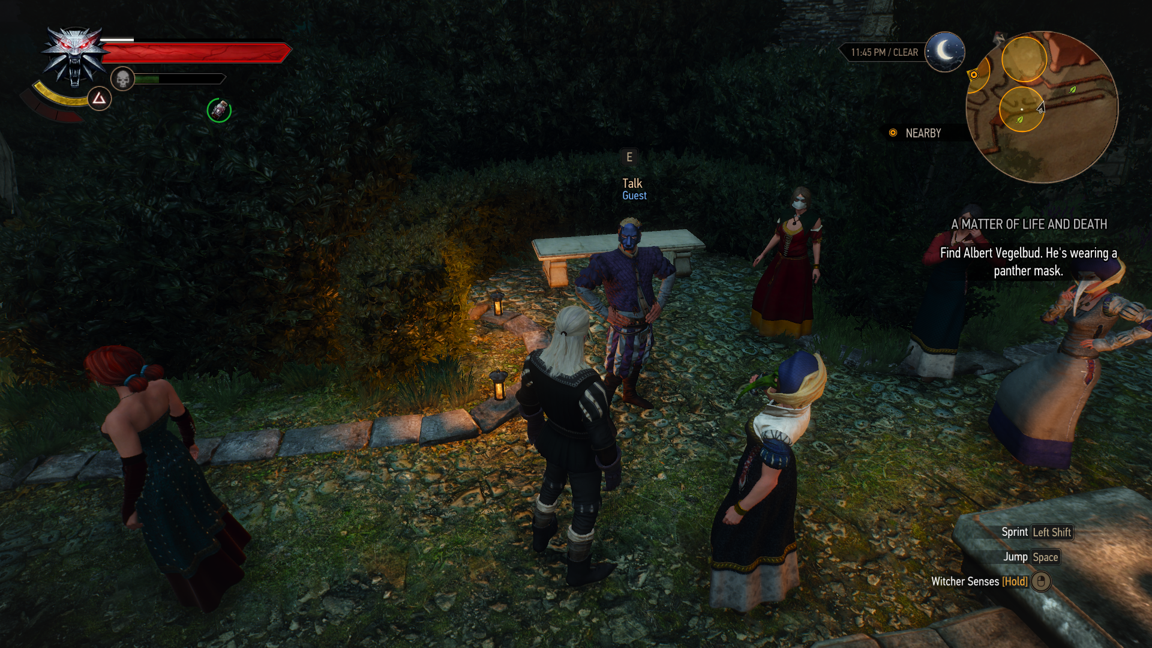 Not too far into the labyrinth of hedges you'll encounter some bandits - use Igni on them to easily beat them (or Aard to CC them and rely on your fists). If you are having trouble getting out of the maze just remember to follow the white dots on your compass, they'll lead you right to the quest marker.
Your destination is the stables which is where you will meet up with Triss and Albert and this quest will conclude. The quest Now or Never will be added to your log at this time as well, which is a continuation of this story chain.